'She breathes the CIA': Ignoring torture reputation, Trump swears in Haspel as 1st female spy chief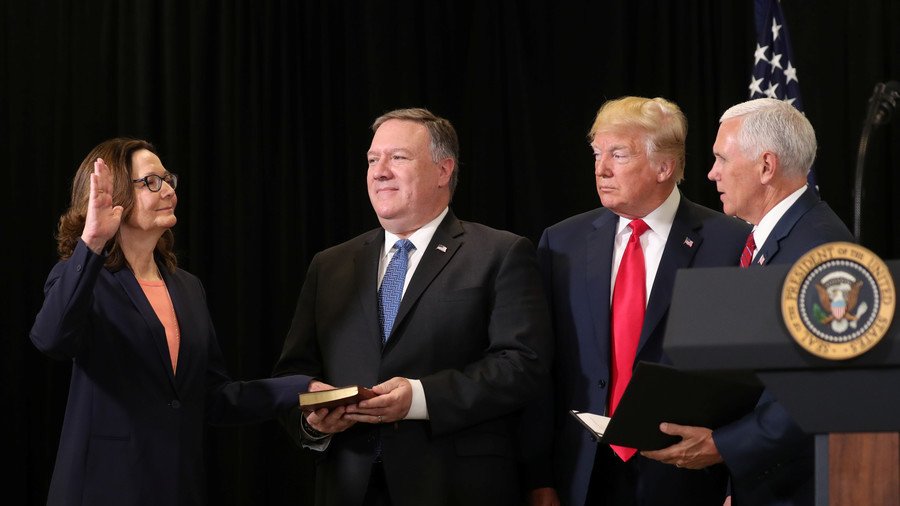 Gina Haspel has been sworn in as the first female director of the CIA at a ceremony attended by US President Donald Trump, despite controversy surrounding her participation in the post-9/11 torture and interrogation program.
Trump called Haspel a "very special person" and someone who has served the US with "extraordinary skill" and devotion. "You live the CIA, you breathe CIA — and now you will lead the CIA," Trump said.
In a reference to the controversy surrounding her nomination, Trump joked that if anyone in the room didn't agree with Haspel's appointment, now was the time to tell him. "Please let me know now before it's too late," he said, before pausing for a few seconds giving the room time to laugh.
But Haspel's nomination to be CIA director was no laughing matter for her critics.
Controversy has surrounded her history with the agency, including her time overseeing a "black site" in Thailand where detainees were brutally tortured, as well as her role in destroying interrogation tapes depicting that torture.
Haspel was confirmed by the senate last week with a final vote of 53 in favor and 45 opposed. The week before, Haspel had faced a tough confirmation hearing, where senators grilled her on her attitude towards torture and her past activities. During the hearing, Haspel said the CIA would not restart any torture program under her leadership, but dodged other questions and was criticized by one senator for giving "legalistic" answers.
The hearing was interrupted by a number of protesters, including former CIA analyst Ray McGovern who was violently dragged from the hearing for protesting Haspel's history of torture. Another protester was removed from the hearing after shouting "Bloody Gina! You are a torturer!"
"Bloody Gina" was the nickname name given to Haspel by some of her colleagues, according to CIA whistleblower John Kiriakou who said Haspel tortured people because she "enjoyed" it and told RT that she was the "the single worst pick" in all of Washington D.C. to lead the intelligence organization.
Seemingly worried that she may not garner enough support to be confirmed, in the days before the senate voted, Haspel sent a letter to top Intelligence Committee Democrat, Virginia senator Mark Warner, promising that the CIA would not torture anyone in future. That letter appeared to do the trick and eased the fears of some apparently anti-torture Democrats who then decided to support her nomination.
Trump also praised Haspel for becoming the first woman to lead the CIA. "That's big," he said at her swearing in ceremony. However, Haspel's critics are not won over by her supposedly feminist credentials, with some pointing out that there's a big difference between being a feminist and "benefiting from feminism."
Anyone who thinks Gina Haspel is a win for "women's empowerment" doesn't understand that there's a huge difference between being a feminist and being a woman who benefitted from feminism

— Jessica Valenti (@JessicaValenti) May 9, 2018
To be clear: Gina Haspel is not a feminist, she is a woman who has *benefited from* feminism.There is no contradiction between believing the fact a woman can now lead the CIA is a victory, and saying that this PARTICULAR woman's record on torture ought to have disqualified her. https://t.co/HAQFCWhEoF

— Matthew Chapman (@fawfulfan) May 21, 2018
You can share this story on social media: