Haspel pledges 'no torture', dodges questions about her CIA role at Senate hearing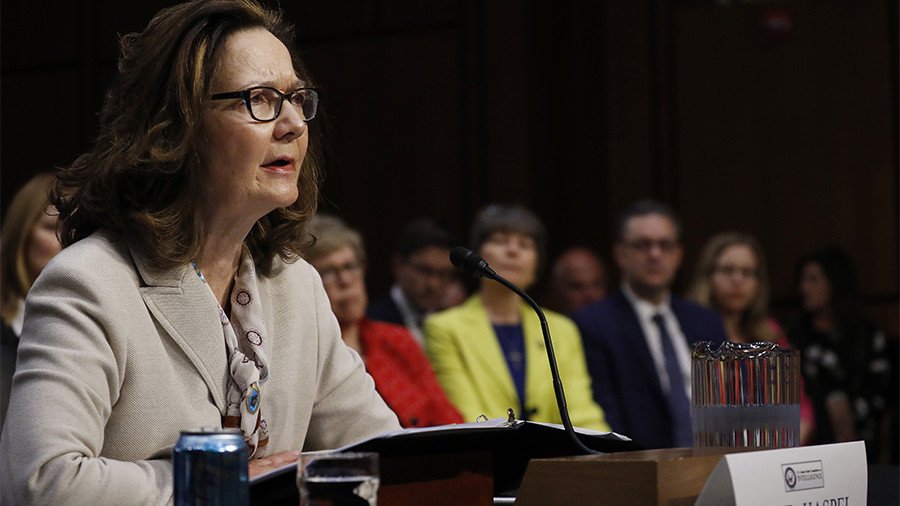 Gina Haspel, US President Donald Trump's nominee to be the next CIA director, says that the intelligence agency will not restart a detention and interrogation program under her watch.
Speaking before the Senate Intelligence Committee on Wednesday, Haspel said the spy agency would focus on "collection and analysis" missions and that the US had "learned some tough lessons" during the "tumultuous" period after the terrorist attacks of September 11, 2001.
Senators grilled Haspel on her attitude to torture and lamented the limited information made available to the public about Haspel's role at the CIA. Haspel dodged questions a number of times, refusing to give straightforward yes or no answers. When pushed, Haspel was forced to admit that she is the one making decisions about which documents and information to release about her history with the CIA.
During her remarks, Haspel was interrupted by a lone protester wearing a red t-shirt and shouting "Bloody Gina!" — the nickname Haspel's CIA colleagues had given to her, according to CIA whistleblower John Kiriakou.
Destruction of interrogation tapes
Haspel has faced tough criticism for her time running an overseas CIA "black site" where detainees were illegally subjected to brutal torture.
During the hearing, she said she "did not appear" on any tapes depicting harsh interrogation techniques and that she was not the person responsible for destroying them.
Referring to the destruction of tapes made under her watch, New Mexico Senator Martin Heinrich asked why it had not been possible to simply digitize the tapes and then black out the faces of CIA officers to prevent them from being put in harm's way.
Haspel avoided answering by claiming she is "not a technical person."
Heinrich criticized Haspel's "legalistic" answers and appealed for her to prove she had the "moral compass" that she claims to have.
'Following orders'
Defenders of Haspel have used the excuse that she was just "doing her job" and "following orders" when taking part in the illegal interrogation program. Senators were therefore interested to know if Haspel would follow orders blindly again, if confirmed as the new CIA director.
Virginia Senator Mark Warner asked Haspel if she would carry out orders from Trump if she found them "morally objectionable," Haspel at first appeared to dodge the question before confirming she would not carry out orders that were morally questionable, even if they were technically legal.
Referencing Trump's stated support for waterboarding, Maine Senator Susan Collins asked Haspel if she would comply if faced with a direct order from Trump to waterboard a suspect, Haspel again evaded the question.
"I do not believe the president would ask me to do that," she said.
Asked by California Senator Kamala Harris if she believed previously used methods were "immoral" and wrong, Haspel refused to give a yes or no answer, despite being repeatedly pushed to answer by Harris.
Declassifying documents
In a testy exchange, Senator Dianne Feinstein criticized the CIA for failing to disclose all documents related to Haspel's history at the agency. The CIA "selectively declassified only small pieces of information to bolster your nomination while keeping damaging information under wraps," Feinstein said.
Haspel told Feinstein it would pose a "security risk" to other agents if the CIA began to declassify her "entire operational history".
Asked by Oregon Senator Ron Wyden whether she ever called for the illegal torture program to continue or be expanded, Haspel again dodged the question and said she regretted that the controversy over the detention and interrogation program had "cast a shadow" over the work of the CIA.
"There is no greater indictment of this process that only you get to decide what the country knows about you and what it doesn't," Wyden said.
Confronting enemies
Not everyone was critical of Haspel, however. Florida Senator Marco Rubio said he believed Haspel "embodies the best" of the men and women who work at the CIA and asked if the organization will properly equipped to deal with the current security threats faced by the US.
Haspel listed off the usual threats to the US including Russia, Iran, North Korea, making particular mention of China and its "efforts to diminish US interests" overseas.
You can share this story on social media: