Trump says 'Libya model' not in store for North Korea… provided it makes deal with US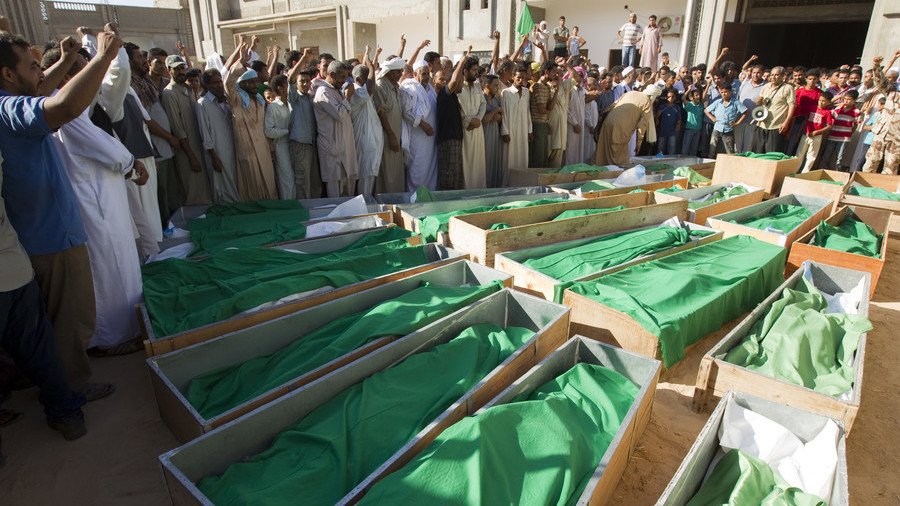 President Donald Trump seems to have contradicted his own national security adviser by saying his administration is not considering a "Libyan model" for North Korea. He joked about attacking North Korea should the talks fail.
US National Security Adviser John Bolton suggested earlier that North Korea should strike a deal with the US similar to the one Libya made in 2003, handing over components and notes of its nuclear weapons program in exchange for better relations with the West.
READ MORE: Bolton wants all of North Korea's nukes shipped to US in exchange for 'security assurances'
In 2011, however, Libyan leader Muammar Gaddafi was ousted from power and killed by rebels backed by NATO. North Korea pointed this out while condemning Bolton's statement earlier this week.
Speaking to journalists in the Oval Office on Thursday, Trump seems to have disavowed Bolton's statements, saying that his administration is not pursuing a "Libyan model" in the attempt to negotiate the de-nuclearization of the Korean peninsula.
"The Libyan model that was mentioned was a much different deal," Trump said. "There was no deal to keep Gaddafi... This would be with Kim Jong-un, something where he'd be there, he'd be in his country, he'd be running his country."
"We never said to Gaddafi 'we're going to give you protection'… We went in and decimated him, and we did the same thing with Iraq," the US president added. "If you look at that model with Gaddafi... that model would take place if we make a deal, most likely. But if we make a deal, I think Kim Jong-un is going to be very, very happy."
Earlier this week, North Korea's first vice minister of foreign affairs Kim Kye-gwan pushed back on Bolton's comments, accusing Washington of misrepresenting North Korea's "generosity and bold measures as an expression of weakness."
"This is not an attempt to solve the problem through dialogue but rather the manifestation ...to force the destiny of the collapsed Libya and Iraq to our dignified state," Kim said, according to KCNA.
North Korea suspended talks with the South, citing ongoing US-South Korean air force drills Max Thunder, but has not officially backed out of the planned summit between Kim and Trump, scheduled for June 12 in Singapore.
Think your friends would be interested? Share this story!
You can share this story on social media: