'New global battle'? Clinton sounds alarm on Chinese influence
Published time: 8 May, 2018 17:23
Edited time: 9 May, 2018 10:23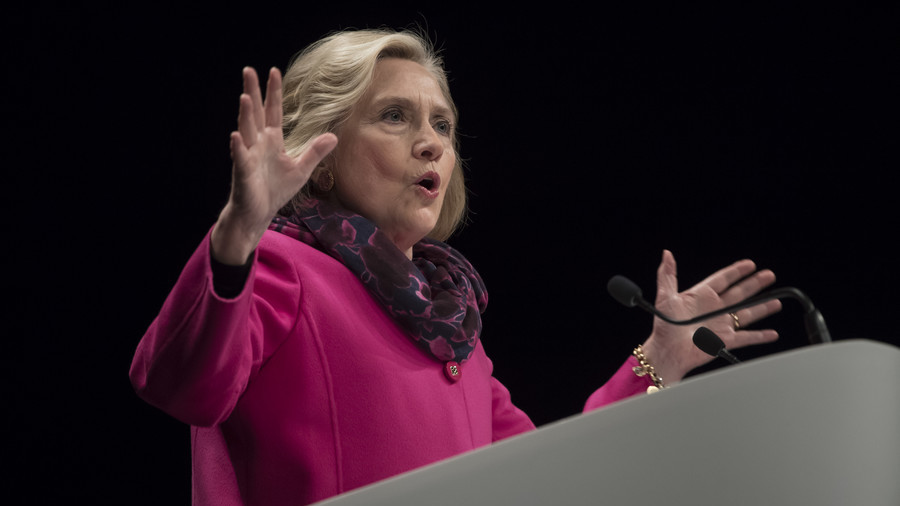 Former US presidential candidate Hillary Clinton has issued a stark warning about China's nefarious attempts to gain influence and power on the global stage.
Speaking to an audience at Auckland's Spark Arena on Monday, the former US secretary of state warned that academics are "sounding the alarm" and that China's alleged political interference in New Zealand and Australia must be taken seriously.
Clinton quoted an academic at the University of Canterbury who has called the struggle against Chinese influence a "new global battle" and said the fight was "just getting started."
In case you needed a reminder: U.S. foreign policy would be just as hawkish and dangerous under Hillary Clinton.https://t.co/NvUyjTvp8L

— Ajit Singh (@ajitbirsingh) May 8, 2018
The failed presidential candidate's comments also echo those from Australian academic Clive Hamilton who told the US Congressional Executive Commission on China that Beijing had been waging a "campaign of psychological warfare" against Australia in an effort to undermine democracy.
If it all sounds a bit familiar, that might be because Clinton has spent the last few years using the same exact talking points about Russia and Russian influence in world affairs. Now it seems she has shifted her attention to Beijing instead.
China, for its part, has consistently denied interference in the domestic affairs of other countries and says it respects the principle of non-interference when developing friendly relations with other nations.
"This principle holds true for developing bilateral ties with Australia," Chinese Foreign Ministry spokesman Geng Shuang said in a statement.
Clinton's outrage at the thought of nations interfering in each others' politics does not apparently extend to the United States, however. In 2006, Clinton was recorded on tape during an interview with the editorial board of the Jewish Press, suggesting that the US should have rigged elections in Palestine so the result would go in America's favor.
Some might say that Clinton's warnings about Russia and her latest hand-wringing about China are a clear case of projection, given that the US has been interfering in the elections and domestic affairs of other nations for decades.
In 2016, Don Levin, a postdoctoral fellow at the Institute for Politics and Strategy at Carnegie-Mellon University, undertook a study which concluded that the US attempted to influence elections, often covertly, in foreign countries up to 81 times in a 54-year period between 1946 and 2000.
Hillary Clinton is picking up where John McCain left off. She is accusing China of the very thing the US has been doing for decades; interfering in domestic policy https://t.co/UqYOT87XR6

— Tayelrand (@Tayelrand) May 8, 2018