'We're exceptional, Russia is not': Pompeo takes hard line in Senate pitch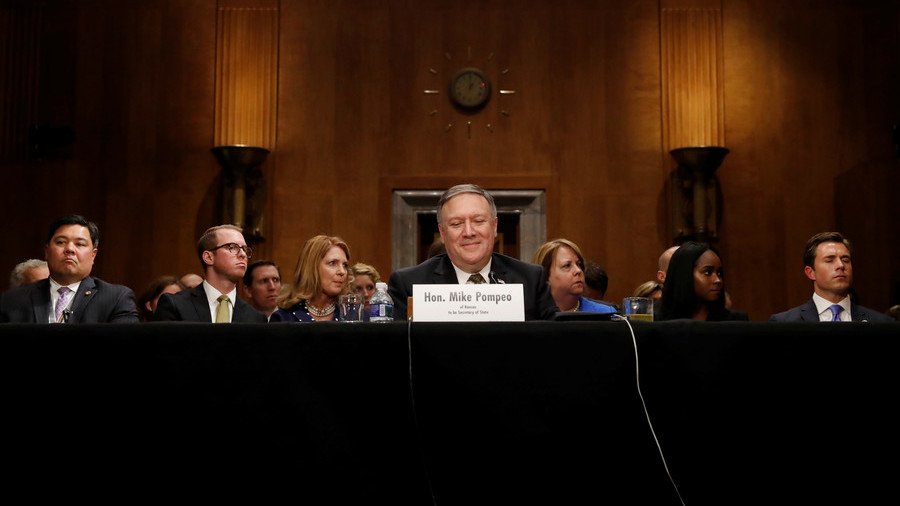 Facing widespread opposition from Democrats over his political beliefs, Mike Pompeo, President Donald Trump's nominee to take over the State Department, took a hard line on Russia in his confirmation hearing.
Democrats on the Senate Foreign Relations Committee grilled the former congressman from Kansas, who headed the CIA for the past 15 months, about his beliefs regarding gay marriage, Muslims, abortion, etc. They did not, however, object to his positions on Russia, which were in line with those laid out by Hillary Clinton after her loss to Trump in the 2016 presidential election.
Pompeo described Russia as "a danger to our country" and blamed Russian President Vladimir Putin for any "bad blood" between Washington and Moscow. He also vowed to "confront [the Russians] at every vector, cyber, economic, et cetera. We need to make sure Putin doesn't succeed."
When Clinton's former running mate Senator Tim Kaine (D-Virginia) asked if the US should back off from regime change and democracy promotion because Russia or another country might feel justified to engage in the same policies, Pompeo responded with a variant of "it's different when we do it."
"This is a unique, exceptional country," he said. "Russia is unique, but not exceptional."
"I mean, look at the election meddling, right?" Pompeo continued, to grins from Senate Democrats. "The words 'democracy promotion' and 'Vladimir Putin' are unlikely to be used in the same sentence, paragraph, or document - maybe the same century."
The US should be proud of the "way we engage with the peoples of the world," which is "different in kind" from how Russia does things, Pompeo continued.
Answering Senator Jeanne Shaheen (D-New New Hampshire), Pompeo listed the ways in which the Trump administration has confronted Russia, from sanctions and the expulsion of diplomats to the new nuclear posture review.
"In Syria, now, a handful of weeks ago the Russians met their match. A couple hundred Russians were killed," he said.
Though Pompeo did not elaborate, his comment was in line with media reports from mid-February that US aircraft and artillery destroyed a column of "Russians" in eastern Syria, near the city of Deir ez-Zor.
Neither the Pentagon nor the Russian Ministry of Defense had confirmed those reports, while the Russian Foreign Ministry acknowledged that "several dozen" citizens of Russia and other former Soviet states were killed or injured during "clashes." The people in question were not members of the Russian military, the Foreign Ministry said.
Think your friends would be interested? Share this story!
You can share this story on social media: