China's Xi to Trump: 'Get off your high horse'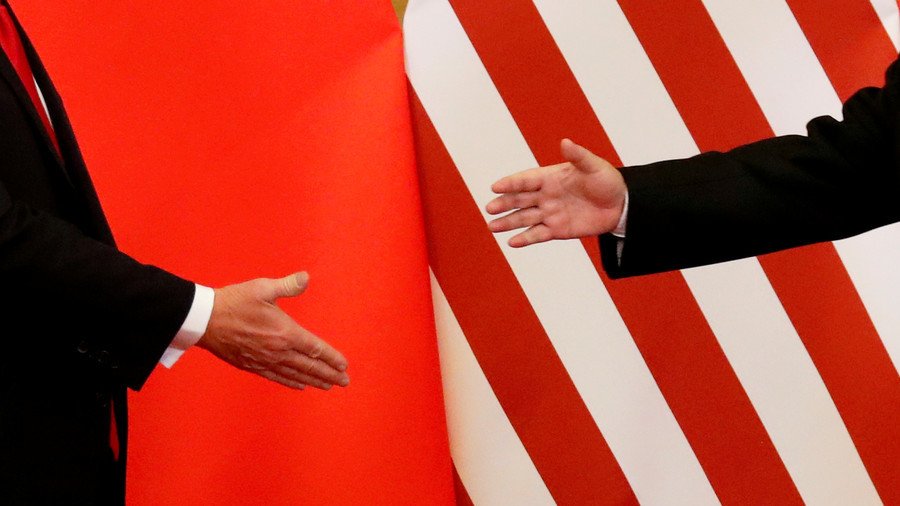 China's President Xi Jinping had a message for his US counterpart Donald Trump this week: "Arrogance will get you nowhere." He added that cooperation and dialogue were the only way forward to resolve disputes in today's world.
Xi was speaking about trade and commerce, but his remarks have wider resonance as the Trump administration high-handedly ratchets up dangerous political tensions towards Russia, Iran and the Middle East.
"The Cold War and zero-sum mentality looks out of place in today's world," said the Chinese president. "Arrogance or only focusing one's own interests will get nowhere. Only peaceful development and cooperation can truly bring win-win or all-win results," added Xi, while addressing the Boao Forum for Asia in China's southern province of Hainan.
These were the first public comments from Xi since the US-China trade dispute flared last week. He did not mention Trump by name, but it was obvious at whom his warning against "arrogance" and "power politics" was aimed.
Ironically, underlining Xi's warning against US unilateralism, the Chinese leader has an unlikely ally. Trump's brash manner towards China has much of his own voter base alarmed owing to the potential damage to their livelihoods that his aggressive policy is stoking.
If Trump triggers a full-scale trade war with China, among the hardest-hit sectors of the American economy will be the farming states in the mid-west. It was in states like Idaho, Indiana and Iowa where voters decisively backed his run for the White House in 2016. If this constituency sees their livelihoods burned in a trade war, Trump's Republican Party can expect fierce retribution in the mid-term elections later this year. The outcome could see Republicans lose majorities in the House of Representatives and Senate, thereby making Trump's presidency a lame duck.
The US leader ramped up the trade-war rhetoric last week when he announced that his administration was going to double-down on imposing tariffs on Chinese exports. Trump said the levies on Chinese goods would be increased from an already whopping $50 billion to an eye-watering $150 billion.
Accusations of "unfair" trading practice by China have been a staple of the Trump presidency. Getting tough by restricting Chinese exports to the US has long been a campaign promise. Trump also accuses China of stealing intellectual property from US firms that are given access to its markets.
For its part, China says that the huge $375 billion trade surplus with the US is not due to its unfair practices, but simply reflects a historical structural problem in the American economy. It points out that the US has a chronic trade deficit with many countries going back several decades. American corporations have maximized profits by setting up factories in China over many years, thereby gutting US manufacturing jobs while concomitantly boosting Chinese exports to the US.
Trump has sought to distort the historical structural problems of American capitalism by using demagogic rhetoric to blame China.
Bullying China to slash trade tariffs is Trump's way of dealing with America's homegrown problems. It's the same arrogant mentality that the colonial British adopted when they blasted China with naval artillery during the Opium Wars of the mid-1800s in order to force China to buy opium from British traders.
The trouble for Trump is that the world has changed significantly. China's economic and military power ensures that it will not be brow-beaten into submission or pander to failings that are do with America's inherent problems.
In an editorial this week, China's state-owned Global Times stated: "With the development of China's economic growth and strength of science and technology… Beijing will never listen to the command of Washington."
With indisputable reason, Beijing is calling for trade problems with the US to be resolved through negotiations at the World Trade Organization.
As China's President Xi said above, only mutual dialogue and cooperation can work in today's world – if peace is to be maintained.
Therein lies the dilemma with Washington's mentality. It does not want to resolve disputes through mutual dialogue and multilateral-based rules, but rather through aggressive unilateralism where one side wins based on zero-sum calculation.
Such a mentality is bound to fail. It is inciting trade wars which, as history shows, are dangerous slippery slopes to military war.
Trump has bragged that is "easy to win a trade war." In the bizarre view of the real-estate-magnate-turned president, he seems to think that China's vast export business with the US leaves it vulnerable to Washington's threats of tariffs. The arrogance of it. The American economy is dependent on China, and yet Trump thinks he can bully his way to fortune.
However, President Xi's wise words of mutual cooperation are backed with a cutting edge of harsh reality. As soon as Trump announced the proposal to send tariffs on hundreds of Chinese exports through the roof to $150 billion, Beijing didn't flinch. It countered with similar tariffs on American exports of agriculture, aviation and autos.
Specific sectors that stands to lose if China goes ahead with its restrictions are the soybean, corn, beef and pork farmers in the mid-west states. Soybean exports from the US to China alone account for $14 billion annually to the American economy – roughly the same as Boeing's aviation business with China, which is also at risk of termination from Beijing's proposed counter-tariffs.
The American backlash to Trump's gung-ho policy towards China has been immediate and furious. In a report by the New York Times, farming communities whose livelihoods depend on exports to China are clamoring for the White House to call off the trade war.
The list of anxious farm states include: Arkansas, Dakota (North and South), Idaho, Indiana, Illinois, Missouri, and Montana. It was largely these rural states that helped get Trump elected in 2016 against Democrat candidate Hillary Clinton.
As the NY Times headlined, "Farmers' Anger at Trump Tariffs Puts Republican Candidates in a Bind."
It reported: "China's aggressive response to Mr Trump's tariffs is aimed squarely at products produced in the American heartland, a region that helped send him to the White House. A trade war with China could be particularly devastating to rural economies, especially for pig farmers and soybean and corn growers. Nearly two-thirds of United States' soybean exports go to China."
At this stage, it remains to be seen whether Trump will go ahead with threats of a trade war with China. This week, the US president referred to China's Xi as "his friend." Nevertheless, Trump still insisted that China would have to bring down its tariffs unilaterally.
So, if Trump has the bullish arrogance to proceed with his hostile policy towards China, one can expect reciprocation from Beijing. That, in turn, will reap a very bitter harvest for Trump in the rural mid-west states, possibly resulting in Republicans losing control of Congress, and Trump's presidency mired in legislative impotency.
President Xi is right. The only way forward in today's world is mutual dialogue and cooperation. Unilateral bullying is a fail-fail mentality. Arrogant Trump is going to find out the hard way.
The statements, views and opinions expressed in this column are solely those of the author and do not necessarily represent those of RT.
You can share this story on social media: