That's just Rudi: State Dept disowns Trump lawyer's comment on regime change in Iran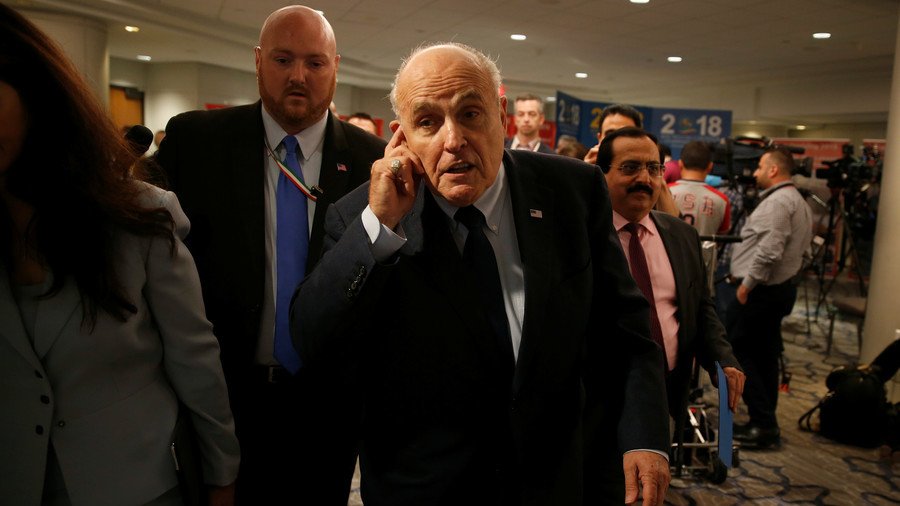 The US State Department has been forced to publicly distance itself from the US President's old friend and new lawyer, Rudi Giuliani. He stirred controversy last weekend by saying the US leader is planning regime change in Iran.
"[Giuliani] speaks for himself and not on behalf of the administration on foreign policy," State Department spokesperson Heather Nauert told AP on Monday.
Giuliani, who was hired by Trump last month to tackle the Mueller probe, has become a source of increasing concern for Washington due to his offhand remarks on matters that are far beyond his area of responsibility.
Although Giuliani, a top-notch attorney and a former New York Mayor, is authorized to speak on the lingering 'Russia probe,' he has been extensively sharing his thoughts and, probably, even some confidential info, on foreign issues such as North Korea and Iran.
Speaking to the Iran Freedom Convention for Democracy and Human Rights in Washington on Saturday, Giuliani, to the delight of the public, claimed that Trump "is as committed to regime change as we are."
Elaborating further on his bold statement, Guiliani outlined a course of action Trump might take to foment regime change in Iran, starting with pulling out of the 2015 nuclear accord.
Once "sanctions [are back], we have a real chance of escalating these protests," Guiliani told the crowd. Trump has never made a secret of his distaste for the Iranian government, vocally supporting street protests that erupted across Iran in December 2017 and largely subsided at the beginning of January.
Although the unrest in that instance was mostly economic in nature, Trump rallied for political change on Twitter and pledged "great support" for the "repressed" Iranians "at the appropriate time" as they "take back their corrupt government."
READ MORE: US will face 'regret like never before' if it pulls out of Iran nuclear deal – Rouhani
Another statement, that can potentially spell trouble for Americans held captive in North Korea, was made by Guiliani last Thursday, when he told Fox&Friends that three American hostages were going to be released that day.
"We got Kim Jong-un impressed enough to be releasing three prisoners today," Guiliani boasted. The remark followed a tweet by Trump in which the US President hinted that the Americans might soon be released from a labor camp in North Korea. "Stay tuned!" he wrote. However, no official announcement has since followed, with White House spokeswoman Sarah Sanders saying she could not confirm the reports.
Giuliani also appeared to ruin the administration's game plan for the Stormy Daniels case, revealing to Fox News last week that Trump had reimbursed his lawyer Michael Cohen for a $130,000 payment to Daniels, a porn star Trump allegedly had an affair with in 2006. Trump, who denies he had any back knowledge of the payment, said that, while Guiliani was "a great guy," he has yet to "get his facts straight on the matter."
You can share this story on social media: