'What could go wrong?' NRA slammed for backing cell phone-shaped gun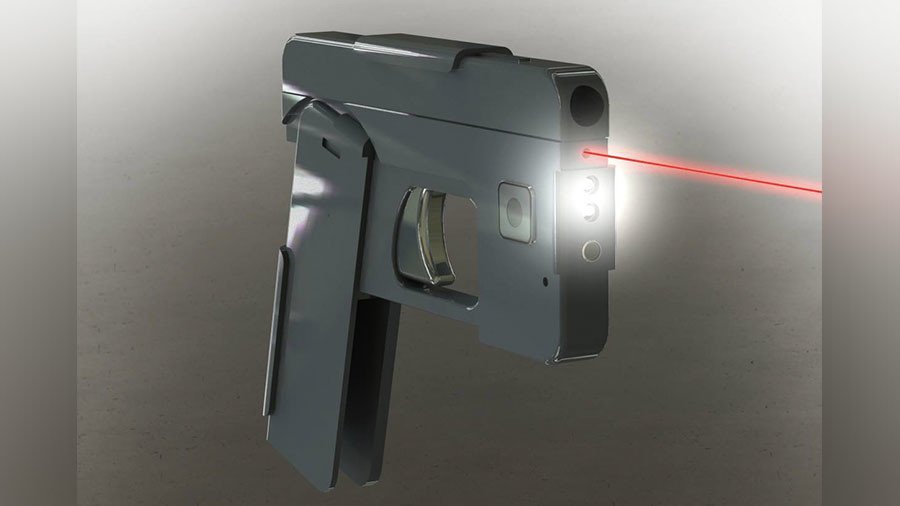 One of the survivors of the Parkland school massacre has hit out at the National Rifle Association (NRA) for showcasing a gun designed to look like an everyday smartphone.
The NRA promoted the weapon as one of it's "featured products" at the association's annual meeting in Dallas, Texas. Advertised as the "Ideal Conceal," the NRA said that the pistol "offers a great option for self-defense along with max concealment."
"The shape will not print as a pistol, yet can be drawn and fired quickly," the NRA added.
Social media was quick to react to the news, with Media Matters for America research fellow Timothy Johnson posing the question "What could go wrong?" That post caught the attention of Parkland survivor Jaclyn Corin with the Twitterverse soon on the case.
Corin said the use and promotion of the weapon would result in police targeting even more people of color. "Even more people will be targeted by law enforcement b/c they "look" like they're carrying a weapon, especially POC," she wrote.
1. Even more people will be targeted by law enforcement b/c they "look" like they're carrying a weapon, especially POC 2. The NRA continuously advertises with human figures as targets, enforcing the normality of shooting other people... https://t.co/44EHxJLEAW

— Jaclyn Corin (@JaclynCorin) May 1, 2018
She was not the only one who thought such a weapon was a terrible idea, citing previous actions by police.

I can hear the police now, "I thought he had one of those cellphone guns." This ain't even funny man. https://t.co/lTD7GaO048

— The Notorious F.I.G. (@JFiggsCT) May 2, 2018
How does the advertising campaign go? "Tired of young, black men on their cell phones? Buy the Genocide Pistol and the cops will solve your problem."

— Susan Martin (@Susanperchede) May 2, 2018
Corin and other Twitter users were seemingly making reference to a number of high profile incidents this year, including the shooting dead of Stephon Clark in March. Sacramento police shot and killed Clark because they believed the phone he was holding was a weapon.
One of the "featured products" on sale at the NRA annual meeting this week is a pistol that looks like a cellphone. It's been a month since Sacramento Police killed Stephon Clark for holding a cell phone.🤷🏻‍♂️ pic.twitter.com/0XuwUiG6aE

— Spike (@loudspike) May 1, 2018
READ MORE: 'Gun, gun, gun': Police mistake cell phone for firearm, shoot suspect 20 times (VIDEO)
More recently, former American football player Desmond Marrow was wrongly arrested for possessing a weapon that turned out to be his cell phone. Marrow posted a video of his arrest on Instagram detailing his treatment at the hands of Atlanta police, Georgia.
"During the arrest the police knocked my teeth out, slammed me on my head and choked me out until I was unconscious…..They threw me into isolation and labeled me a gang member because of my tattoos. I was fully cooperating with the officers with ZERO resistance. I thought I was going to die. I was sure I was passing out or dying when Officer #D.Rose was choking me as my breath kept slipping away," he wrote.
Think your friends would be interested? Share this story!
You can share this story on social media: