'Gun, gun, gun': Police mistake cell phone for firearm, shoot suspect 20 times (VIDEO)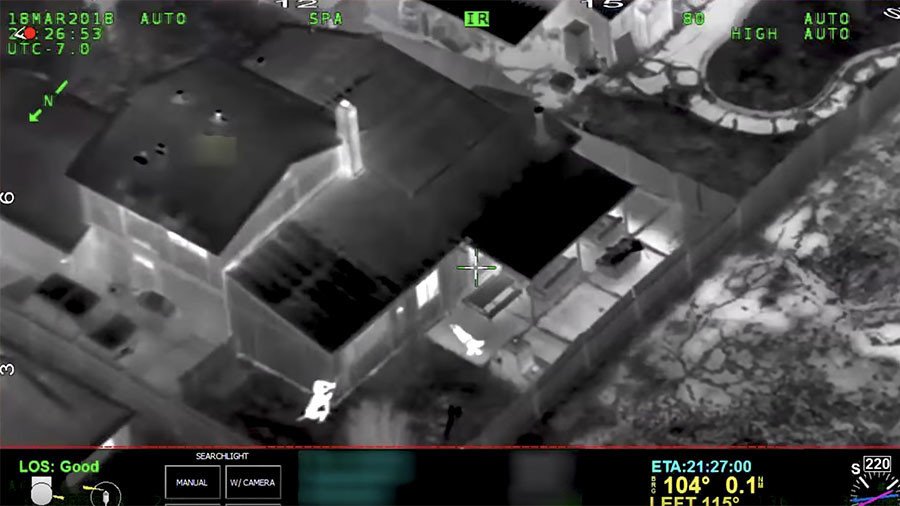 Harrowing footage of the moment police apparently mistook a cell phone for a gun before firing 20 bullets into a suspected vandal has been released. Sacramento police are investigating the shooting of the unarmed black man.
Stephon Clark, 22, was confronted by police officers and shot dead in the backyard of his grandmother's home last Monday, the Sacramento Bee reports.
According to the local police department, officers had been dispatched to the neighbourhood following a call that a male "wearing a black hoodie and dark pants" was breaking into vehicles.
At around 9.25pm local time, a helicopter support team directed police to a backyard where an alleged suspect, who was observed hopping a fence, was deemed to be hiding. Police in the sky had earlier warned that the man had picked up a "toolbar" and broke a window to a residence.
In body cam footage released by the Sacramento Police Department on Wednesday, two officers can be seen calling to a residence before spotting a man running into a back garden. A short pursuit ensues with one officer heard shouting at the suspect: "Hey, show me your hands, stop, stop."
READ MORE: Graphic video shows suspect firing on Arkansas police before fatal shooting
At one point an officer shouts "gun, gun, gun" before two cops then fire multiple rounds without reply. Stephon Clark received medical attention after officers held their position for five minutes, according to police. Based on the footage it's not apparent that officers identified themselves as police when they confronted Clark.
In footage filmed by an overhead police helicopter, Clark can be seen advancing towards the two police officers before sparks from their weapons appear on screen.
"Prior to the shooting, the involved officers saw the suspect facing them, advance forward with his arms extended, and holding an object in his hands," the Sacramento Police Department statement read.
READ MORE: Police fatality rate drastically drops to second lowest in more than 50 years
"At the time of the shooting, the officers believed the suspect was pointing a firearm at them. After an exhaustive search, scene investigators did not locate any firearms. The only item found near the suspect was a cell phone." The two officers have been put on administrative leave pending an investigation.
Think your friends would be interested? Share this story!
You can share this story on social media: