Graphic video shows suspect firing on Arkansas police before fatal shooting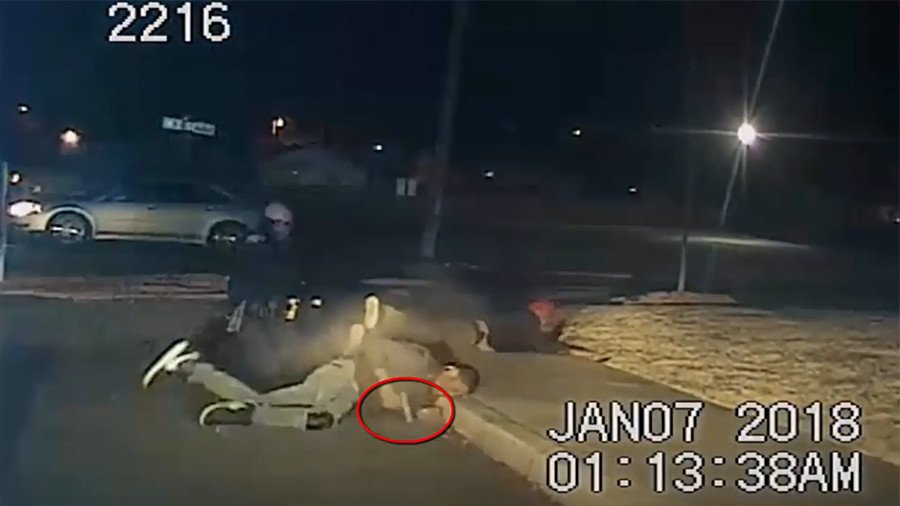 In order to quell rumors spread on social media, the North Little Rock Police Department has released disturbing dashcam footage that shows 17-year-old Charles Smith firing a gun at officers before being shot dead.
During a Wednesday press conference, North Little Rock Police Chief Mike Davis said it was necessary to release footage of the shooting in order to clear up a "great deal of misinformation" that was being spread on social media.
"I fear that misinformation gets out that says the subject wasn't armed, that the subject didn't shoot," Davis said, according to the Arkansas Democrat-Gazette. "He was armed and we, in fact, had to take action because of that. I want people to see what happened."
On Sunday, Police released a statement that said officers stopped a vehicle with three individuals just after 1am local time.
Davis said the car was traveling at "excessive speeds" with a broken headlight.
In the video, the officers can be heard repeatedly asking the suspects if they have anything illegal on them.
"You got a little bit of weed or something in there like that?" an officer asks. "OK if we look?"
As an officer pats down the first suspect, he can be heard asking him why he is "super uptight" and "nervous."
The suspect claims he has been training to join the police force, and wants to keep his record clear. However, the officer continued to question him.
"I'm catching a vibe from you man, I'm trying to figure it out, brother," the officer continues. "I'm just going to shoot it straight with you man, like I said just the way you was acting, it's making me feel like there's something in that car. You got a little bit of weed or something in there?"
The suspect immediately denies that there is anything illegal in the car, and gives the officers permission to search the vehicle.
The officers pats down the first two suspects and also asks them to sit on the curb.
When he calls Smith over to pat him down, the officer jokes with him about his shoes.
"What are those, new Air Force Ones? How you like them?" the officer laughs.
The scene shifts as the officer repeatedly tells Smith not to reach for something.
Suddenly, the officer falls to the ground grabbing Smith, who screams, "I can't go to jail."
The officers pile on Smith and try to subdue him, and one of the officers yells, "It's a f*cking gun!"
Smith fires a shot while the officers are piled on top of him, nearly hitting his friends sitting on the sidewalk. He is then seen pointing the gun directly at an officer's face before the other officers fire at Smith, sticking him several times.
Officers tried to save Smith's life, but he was later pronounced dead at the scene, police said.
On Wednesday, Davis said the officers found a gun and a small bag of marijuana on Smith during the pat-down. Another stolen handgun was also found on the passenger-side floorboard.
"As officers continued to pat him down, Smith attempted to gain control of a handgun and flee, at which time he was taken to the ground," Davis said, according to the Gazette.
Davis said officers tried to subdue Smith with a stun-gun, but they were unsuccessful.
As Smith struggled with the officers, he fired a shot that nearly struck the two other suspects, Davis said. Smith's second shot barely missed an officer's face before all three officers opened fire.
"No officer wants to be put in this position, but these officers were left with no other choice but to protect their lives and return fire," Davis said, according to the Gazette.
Davis added that an internal investigation is being conducted to determine whether any department policies were violated, and said it should be completed "very soon."
The chief has not released the names of the officers involved, but said the department and officers have received death threats since the incident.
"I want our people to feel comfortable. I want our young people to feel comfortable as well and not be fearful," Davis said, according to KATV.
An attorney for the Smith family released a statement requesting the District Attorney's office to conduct an investigation into the use of deadly force.
Davis said the family and their attorney saw the footage before it was released to the public.
On Wednesday, people gathered at the curb where the incident occurred, leaving flowers, candles and balloons in honor of Smith.
Hours after North Little Rock Police release dashcam footage of fatal officer-involved shooting, a small group has come to the makeshift memorial to remember 17 y/o Charles Smith Jr. pic.twitter.com/EFLPHrt4Tu

— Mitchell McCoy (@MitchellMcCoy) January 10, 2018
"I want to offer my condolences to the Smith family and my prayers as well," Davis said, according to KATV. "I also want to ask for continued support for not only the officers involved in this tragic incident but to all officers who are out serving and protecting our city each and every day."
You can share this story on social media: