Investigation launched after cop KOs drunk college football fan (VIDEO)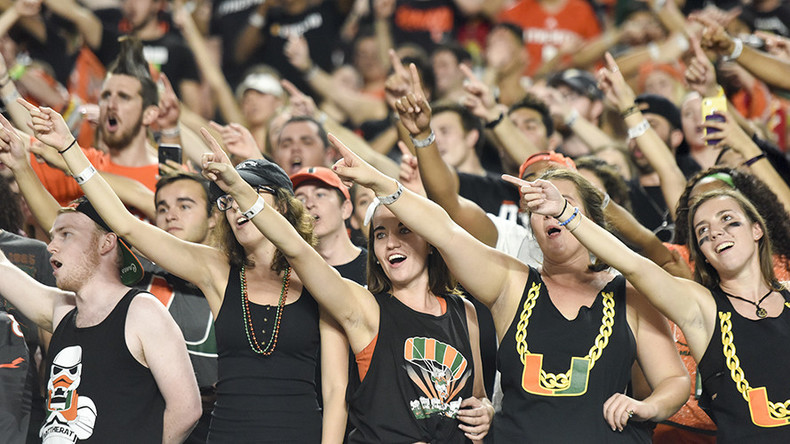 An investigation has been launched after a Miami police officer knocked out a drunk University of Miami football fan in retaliation for her lashing out at him while being ejected from a recent game.
Video footage of the incident that has surfaced online shows the fan, who appears to be heavily intoxicated and has since been identified as 30-year-old Bridget Freitas, being ejected by a group of Miami-Dade police officers during the university's game against Virginia Tech at Hard Rock Stadium on Saturday.
The 14-second clip shows four officers – three male and one female – attempting to eject Freitas, who is wearing a green and orange University of Miami T-shirt, by grabbing her arms and legs and lifting her up.
Freitas responds by attempting to hit one police officer, but misses. However, the momentum allows her to connect with a slap to the face on her second try.
When contact is made, the officer holding Freitas' leg with his left arm, later identified as Detective Douglas Ross, instantaneously responds with a hit with his right hand that seemingly knocks her unconscious. The officers continue to escort Freitas from the stadium as she sways back in their grasp.
Detective Alvaro Zabaleta said the Miami-Dade Police Department had received a copy of the video and the investigation of the incident in Miami Gardens was ongoing Sunday morning.
"Promoting a safe and secure environment during any special event is our primary concern. After responding to a disturbance, the person in the video was being removed from the event by our officers for being disorderly," Zabaleta said in a statement, CBS Miami reported.
"She was subsequently arrested for Battery on a Law Enforcement Officer and Disorderly Conduct/Breach of the peace. Supervisory personnel are aware of the video and are reviewing the incident to ensure compliance with our policies and procedures."
READ MORE: NFL star Zach Miller thanks surgeons for saving his leg
Freitas' arrest report explains how officers responded to a disturbance at Hard Rock Stadium to find Freitas arguing with other fans and swearing loudly.
She then sat on the stairs of the section and refused to move, leading to the officers having to forcibly take her out. She has subsequently been charged with disorderly conduct and battery on a police officer.
The video has gained over 14,000 retweets and 31,000 likes since originally being shared on Barstool Miami Sports Twitter account.