4 dead, 10 injured after gunman goes on 'murderous rampage' in California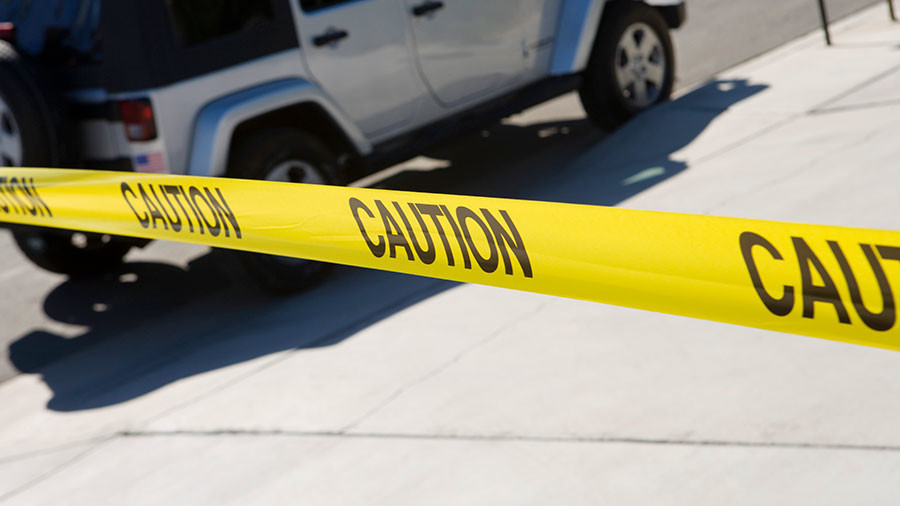 A gunman "driving by residences and arbitrarily shooting at them" killed four people and injured 10 during a shooting spree in Northern California that involved an elementary school, law enforcement said.
The shooting began "right about 8 am" local time (1600 GMT), when police received a report of "shots fired, man down" near the suspect's house, according to Assistant Sheriff Phil Johnston.
Johnston said the suspect had an "ongoing dispute" with his neighbor. He was previously arrested and charged with "assault with a deadly weapon" on her.
She was one of the first victims, along with a man who was also reported to be shot and killed at the scene.
At a press conference Tuesday, Johnston said the gunman then got into a vehicle and began opening fire "without provocation or warning," shooting at a woman who was dropping her kids off at the school.
A child in the backseat of the car was shot and suffered injuries that Johnston described as "not life threatening." The woman driving the vehicle, however, sustained "very life threatening" injuries, Johnston said.
The woman was attempting to drive herself to the hospital when she encountered Johnston. She told him she didn't know the suspect, but he opened fire when she was passing by him. The child's injury was either the result of a gunshot or shrapnel from the bullet hitting the car, Johnston said.
When the school's staff heard gunshots half a mile away, they put the school on immediate lockdown "without having to be told to do so by law enforcement."
The shooter then rammed his vehicle into the school gate and entered the grounds with a semi-automatic rifle that had a multi-round clip and a load-bearing vest that had clips embedded in the chest.
Footage from the school's security cameras revealed that the suspect was able to enter a bathroom, the only unlocked door in the school.
When the suspect couldn't get into any of the rooms because they were locked, Johnston said he fired an estimated 30 rounds at the windows over the course of six minutes.
Coy Ferreira, who was dropping off his daughter at the school at the time, said he ran into a classroom with 14 students when he heard gunshots.
Ferreira said that during the gunfire, one of the young boys was hit in the foot and the chest.
"He's a really strong kid," Ferreira told KRCR. "I didn't know he was shot for a good 30 minutes until I got up to walk to the office in the classroom and I saw he had bloody clothes. He started crying and I informed the teacher that he was shot."
The suspect then became "frustrated" that he was unable to enter any of the classrooms and left the school.
Johnston applauded the staff at the elementary school for their "quick thinking," saying their actions saved "countless lives and children."
"This incident, as tragic and as bad as it is, could have been so much worse if it wasn't for the quick thinking and staff at our elementary school," Johnston said. "At this time, we are unaware of any child that has died as a result of this incident."
Johnston said that the suspect chose the school as a random target, adding investigators have "not connected him with any one person in the school."
Law enforcement still do not know the gunman's motive. Johnston said the suspect had "no real connection" to any of the victims, adding that they appear to be "random selections."
"There is nothing to indicate this is terrorist related," Johnston said. "This is an individual that armed himself...I think with the motive of getting even with his neighbors and when it went that far, he just went on a rampage."
"It was very clear at the onset that we had an individual that was randomly picking targets," Johnston said, according to KOAT.

Over 100 law enforcement officers have responded to the scene, the sheriff said. The Enloe Medical Center confirmed to KNVN that three children and one adult were evacuated from the scene. One of them required a medical helicopter. Mercy Dignity Health in nearby Redding confirmed receiving three additional patients.
The suspect continued his spree, driving around and killing another three people in the town before he encountered police. When the gunman began shooting at police officers, they rammed his car and ran it off the road. Johnston said that no officers were injured in the incident.

"I know that we have medevaced a number of students," Johnston said. "I know that the school's been cleared. I know that we have children that were attending school in a safe location at this time."
At least 10 people have been hospitalized, some of them children, the Redding Record Searchlight reported. Tehama County Superintendent of Schools Rich DuVarney said there were no student or staff fatalities.
Johnston said all of the children have since been reunited with their families and the two boys who were shot have survived.
Police are investigating at least seven crime scenes around the town, Johnston said. A "semi-automatic rifle and two handguns" have been recovered by authorities, he added.
At one of the scenes, a SWAT truck was captured blocking a home's driveway as law enforcement investigated.
A local resident told KNVN his truck had been stolen and his roommate was injured.
"The crazy thing is that the neighbor has been shooting a lot of bullets lately, hundreds of rounds, large magazines," said the man, identified by the Searchlight as Brian Flint. "We made it aware that this guy is crazy and he's been threatening us."
The sheriff's office was able to positively identify the shooter, but Johnston said he could not release his name because of rules that require them to notify his next of kin before the press.
Johnston said that there was no one else involved in the shooting, but said that there could be other victims, citing some people associated with the gunman who police were not able to locate.
Rancho Tehama is a town of 1,500 residents in Tehama County, north of Sacramento.
California Governor Jerry Brown issued a statement saying he and his wife were saddened to hear about the shooting.
"We offer our condolences to the families who lost loved ones and unite with all Californians in grief," Brown said.
Senator Kamala Harris (D-California) said she was "heartbroken" by the shooting and thanked the officers and first responders.
Vice President Mike Pence said he will continue to monitor the situation and provide federal support.
RT America is awaiting updates from the Tehama County Sheriff's Office.