US still paying White Helmets despite $200mn-aid freeze for Syria recovery, State Dept confirms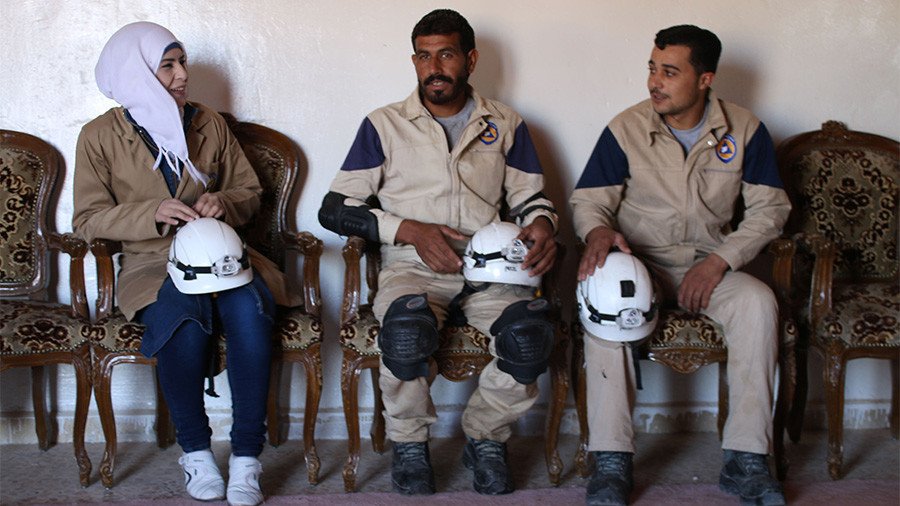 As the US is reviewing funding aimed at helping war-ravaged Syria rebuild, it's not neglecting the White Helmets – a controversial militant-linked group instrumental to the media campaign against Assad and Russia.
At a Thursday press briefing, journalists asked US State Department spokesperson Heather Nauert for an update on the late-March freeze of $200 million earmarked for the recovery of Syria – and if that means Washington will be withholding payments to the White Helmets.
Nauert opened her response with a gushing comment about the organization. "We recognize and appreciate and are very grateful for all the work that the White Helmets continues to do on behalf of the people of their country and on behalf of the US Government and all the coalition forces. They're doing incredible work in rescuing in some cases, and in other cases it's recovery efforts. They're an incredible group of individuals," she said.
US State Department spokeswoman Heather Nauert yesterday: we "are very grateful for all the work the White Helmets continue to do.. on behalf of the US government and coalition forces.. I just exchanged emails with them the other day... peoples bills are still being paid..' pic.twitter.com/zOoFH9vVYw

— WikiLeaks (@wikileaks) April 20, 2018
Moreover, she said she "just exchanged emails with them the other day." Finally cornered into giving a direct answer, she said "As far as I'm aware, all of the work still continues. Peoples' bills are still being paid."
The White Helmets (officially called the Syria Civil Defense), a supposedly impartial humanitarian NGO, make no secret of who pays those bills, listing the governments of the UK, Germany, and the US among others on their website. Time and again their reports from the scenes of supposed crimes against civilians by the forces of Syrian President Bashar Assad – who Washington has wanted toppled for years – have been used to justify accusations against Assad and his ally Russia. This includes the latest alleged chemical incident in Douma near Damascus, which led to a series of missile strikes by the US, UK, and France.
These allegations have now been contradicted by multiple sources, including witnesses from the scene, and even people featured in the White Helmets' video of the "aftermath" of the "attack."
The White Helmets rely heavily on positive publicity. They have been featured in two documentaries, one of which won an Oscar in the heavily politicized 2017 ceremony.
A recent attempt at gaining publicity and support for their cause, however, fizzled spectacularly. English singer Roger Waters, a founder of Pink Floyd, stopped his Barcelona gig for a minute last week to mention that a representative of the White Helmets wanted to come up on stage and make a statement. However, Waters had a few words of his own to say.
"The White Helmets is a fake organization that exists only to create propaganda for jihadists and terrorists," he said.
It later turned out that in 2016, the NGO emailed Waters, trying to entice him into a dinner honoring the White Helmets, paid for by a Saudi billionaire. And just days before last week's concert, a journalist describing himself as "a militant with the Syrian White Helmets" asked Waters for stage time to "send a message to the children of Syria."
Waters replied to neither email, instead choosing to make his beliefs heard publicly.
"If we were to listen to the propaganda of the White Helmets and others, we would be encouraged to encourage our governments to start dropping bombs on people in Syria," he said.
Which is exactly what happened a few hours later.
You can share this story on social media: