'Who did he have sex with?' Liberal media take digs at Fox host Hannity over Trump lawyer link
Published time: 17 Apr, 2018 17:04
Edited time: 18 Apr, 2018 08:27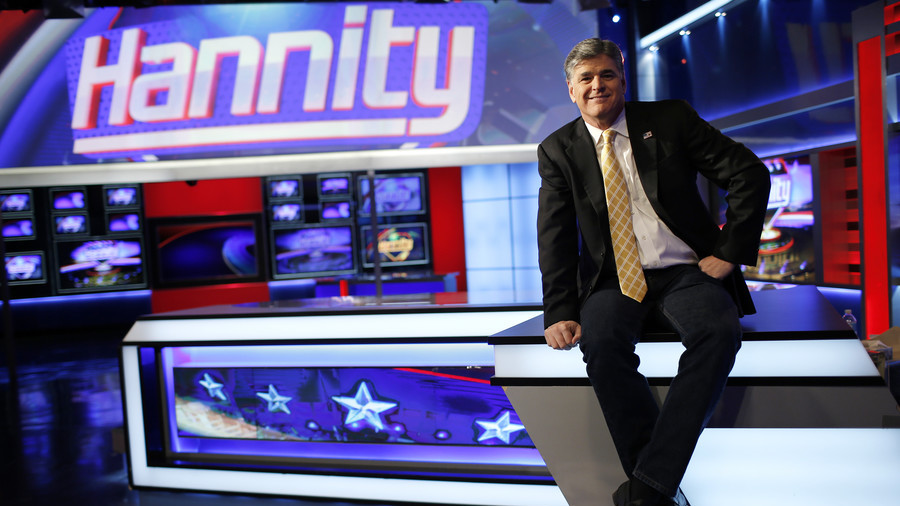 After the revelation that Trump's lawyer Michael Cohen worked with Fox News host Sean Hannity, CNN and a number of late-night liberal talking heads jumped at the chance to bash the TV host for the crime of talking to an attorney.
After Cohen's office was raided by FBI agents last week and a trove of private communications was seized, Federal Judge Kimba Wood forced Cohen to reveal the names of his clients on Monday, one of whom was Hannity.
Hannity denied any involvement with Cohen, beyond "occasionally" asking for his input in legal discussions. Hannity has been covering the story surrounding Cohen on his Fox News show, leading to concerns about a conflict of interest.
Hannity said on his radio show on Monday that he "may have" handed Cohen $10 and said: "I want privilege to cover me about this conversation."
CNN was first out of the gate to land a dig on the conservative heavyweight, running a segment arguing that he should never have enjoyed lawyer-client privilege. Legal analyst Carrie Cordero said that, unless Cohen was formally retained, Hannity should never have expected confidentiality.
Over several segments that followed, the network attacked Hannity for working with Cohen, for not disclosing this to his viewers, and for calling his show "news."
MSNBC's Rachel Maddow said that she was "struggling not to laugh" after hearing the court revelation, and described the situation as "just nuts." Maddow has been a constant critic of the president and his team, and drew 4.1 million viewers when she released Trump's tax returns live on air last year. In a stunning anticlimax, the documents revealed that Trump had properly paid his taxes.
Late-night comedian Jimmy Kimmel was next to pile on Hannity, wondering what kind of legal advice Hannity would need that didn't involve a third party "unless, maybe Sean Hannity was thinking about suing himself?"
Kimmel and Hannity had feuded publicly in recent weeks. After Hannity compared Kimmel to Harvey Weinstein for a sketch broadcast several years ago; Kimmel shot back, calling Hannity an "ass clown," and asking "Does Trump prefer you on bottom?" Kimmel was later forced to apologize for these remarks after an outcry from the gay community.
READ MORE: Jimmy Kimmel apologizes for offending gay community during online Hannity spat
Predictably, Kimmel's fellow late-night liberal Stephen Colbert waded into the fray, toasting the revelation that Hannity was Cohen's client with a glass of wine. "This is crazy," Colbert told his audience. "Cohen only has two other clients, and all he does for them is pay off mistresses – which raises the obvious question: who did Sean Hannity have sex with?"
Cohen previously paid porn star Stormy Daniels $130,000 reportedly in an effort to keep her quiet about an alleged 2006 affair with Trump, while he also reportedly arranged a $1.6 million payout to a Playboy model who had become pregnant through her relationship with Republican fundraiser Elliott Broidy, his other client.
Hannity's Fox News colleague Tucker Carlson came to his defense on Monday, arguing that "who he hires as a lawyer and why is nobody's business… no judge has a right to violate his privacy or anybody else's. Those used to be the rules, but the rules have changed.
"Now maybe you hate Trump and you're happy about that, but what are the rest of us losing in this process?" Carlson added. "Attorney-client privilege no longer means anything. Neither does privacy or public reputation or fairness."
READ MORE: 'Attorney-client privilege a thing of the past' – Trump blasts FBI in latest Twitter tirade
The Cohen revelations also angered Donald Trump, who saw the FBI raid on the lawyer's office as another incident in a long witch-hunt against the president.
"Attorney Client privilege is now a thing of the past," Trump tweeted after the raid on Cohen's office. "I have many (too many!) lawyers and they are probably wondering when their offices, and even homes, are going to be raided with everything, including their phones and computers, taken. All lawyers are deflated and concerned!"