Tillerson splurged $12mn on consultants as part of State Dept overhaul plan – report
Published time: 5 Apr, 2018 17:29
Edited time: 6 Apr, 2018 12:34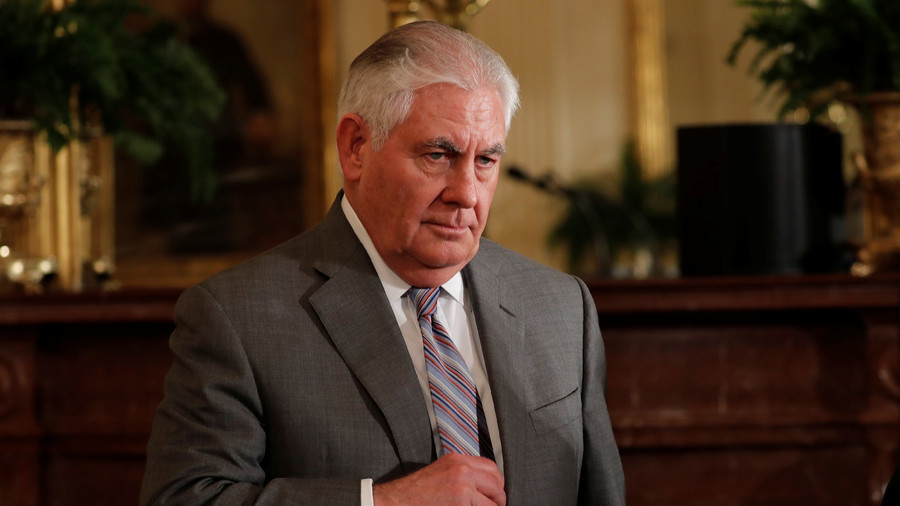 Consultants costing up to $300 an hour were engaged as Rex Tillerson tried to revamp the State Department. With Tillerson gone, the future of the redesign is uncertain, but taxpayers have already picked up the $12 million tab.
Politico has revealed the figures, citing documents it obtained, and said they were partly confirmed by a State Department spokesperson. As many as 90 consultants worked on the project, which was aimed to make the State Department more modern and cost-effective. Their tasks included meeting with officials, collecting and analyzing data, creating presentations, and leading group discussions to help meet Tillerson's vision of a State Department redesign.
Great @nahaltoosi scoop: Rex Tillerson -- the SOS SoS -- paid out $12 million to $300-an-hour consultants to "redesign" an agency he wasn't actually allowed to run. https://t.co/5DPTWafhrO

— Glenn Thrush (@GlennThrush) April 5, 2018
Rex Tillerson should go to jail for wasting $12 million on friends "consulting" the State Dept. All Tillerson did was loaf around, fire people, waste money & serve as Putin's biggest ally—besides Trump himself. Tillerson's biggest accomplishment was calling Trump a f*cking moron.

— Scott Dworkin (@funder) April 5, 2018
Most of the consultants were from Deloitte, as part of a pre-existing federal contract. That contract was previously raised from $140 million to $265 million, according to Politico. Although budget ceilings are often not reached, the additional available cash may give some indication of just how grand Tillerson's plans apparently were.
READ MORE: Mnuchin spent $1mn of govt money using USAF as airline – watchdog
Tillerson's much-touted planned overhaul was intended to "transform" the State Department, according to one of the documents. That goal aligned with President Donald Trump's attempts to slash the $60 billion a year the US spends on the State Department and affiliated programs by one-third. Critics saw the plan as a way to make severe cuts, and Tillerson eventually revised the plan to focus on modernized technology and better management practices.
However, the fate of Tillerson's plan remains uncertain, as the former secretary of state was fired from his position last month. The topic is likely to arise during the Senate confirmation hearing for CIA Director Mike Pompeo, who Trump appointed to succeed Tillerson. That hearing is expected to take place later this month.
Wouldn't it make more sense to fill all the vacant positions at State? Pretty sure there has always been consultants and analysts at State, and I don't think they were being paid $300/hr. I do not understand. Educate me??

— PAPPY BEST (@pappybest) April 5, 2018
And Trump said he was gonna drain the swamp !!!
All he did was made it deeper and more costly $$$$$$$$$$$

— Rozzie Vox (@RozzieVox) April 5, 2018
Politico spoke to congressional officials who, despite trying to learn details of the redesign for months, failed to do so and expressed surprise at the numbers. "I believe we must look into how taxpayer money was spent on this botched project and will continue to call for the committee to examine these issues in open hearings in the near future," New Jersey Sen. Bob Menendez, the top Democrat on the Senate Foreign Relations Committee, said in a statement.
What is perhaps not surprising is the lavish and questionable spending in Washington. In December, a US professor and his team found that Washington may have spent as much as $21 trillion on things it couldn't account for between the years of 1998 and 2015. The biggest chunk of that was reportedly spent by the Army.
In February, it was revealed that the US government lost $1.2 trillion in 2017. That came after the US Federal Reserve said this month national debt could reach $30 trillion in just 10 years and that it should be a reason for concern.
Wasteful government programs, from dogs performing Shakespeare to fighter jets bankrupting the Pentagon, found themselves the target of a scathing 2017 report that listed $473.6 billion in wasteful federal spending.