Air Force One refrigerator replacements to cost taxpayers $24mn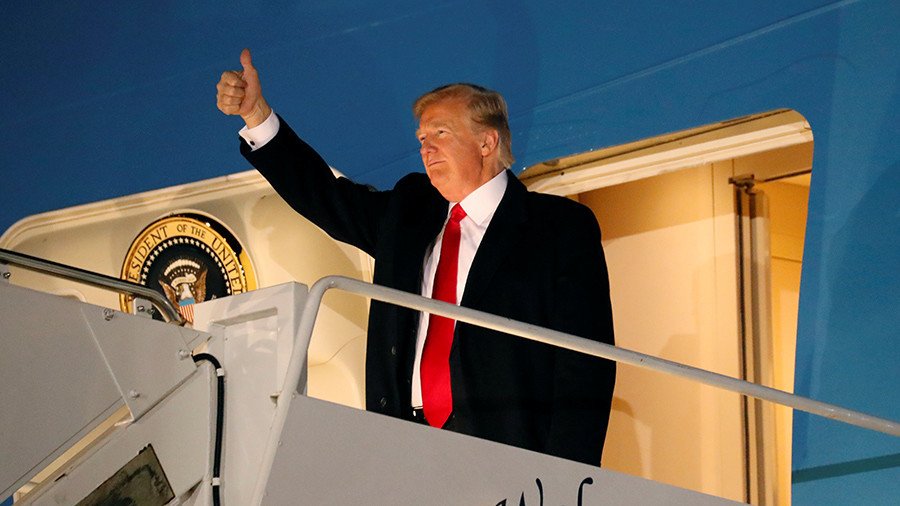 Experts say Boeing's nearly $24 million contract to install two new refrigerators on Air Force One is not price gouging, but due to the specific requirements of the presidential plane. The jet is designed to store 3,000 meals.
Air Force One has a total of five chillers that can store about 3,000 meals to feed up to 100 passengers and crew for weeks without resupplying, according to Defense One. The chillers on the jumbo jet date back to 1990, when the current model of the presidential planes were first deployed.
Boeing was awarded a $23,657,671 contract to design, test, and install two VC-25A G12/G13 chillers for the customized 747 jumbo jet in December.
"The Air Force requires that the current air chillers in the G12 and G13 galleys be modified with new cold food stowage to improve reliability and maintainability," a contract notice from the Pentagon states.
The repairs are set to be completed by October 30, 2019.
"Although serviced on a regular basis, reliability has decreased with failures increasing, especially in hot/humid environments," Air Force spokesman Ann Stefanek told Defense One. "The units are unable to effectively support mission requirements for food storage."
Richard Aboulafia, vice president of analysis at the Teal Group consulting firm, told Defense One the chillers are so expensive because they are custom made for Air Force One, and many of the contractors are required to maintain high-level security clearances.
"It's not a contractor issue, it is a requirements issue," said Aboulafia. "It's not getting people rich."
Stefanek said although the chillers use "available industry technology," they are designed to hold 70 cubic feet of refrigerated storage.
"The engineering required to design, manufacture, conduct environmental testing and obtain Federal Aviation Administration certification are included in the cost," Stefanek told Defense One.
However, Eric Schultz, a former White House deputy press secretary under former President Barack Obama, tweeted Friday "we would have been impeached" if the repairs were made under the previous administration.
Before taking office, Trump repeatedly criticized Boeing for a $4 billion contract to build a new Air Force One fleet. Trump said the contract was a waste of taxpayers money and called for the contract to be canceled.
Last week, Judicial Watch, a conservative watchdog organization, released travel records from the US Department of the Air Force, which showed Trump's flights on Air Force One have cost taxpayers a total of $13,533,937.28 so far. The price does not include the cost of his Secret Service detail.
Trump's trip to Yuma, Arizona in August, where he attended a campaign rally and met with Marines, cost taxpayers more than $1.5 million, according to Judicial Watch.
"Trump's regular trips to his homes are adding up to a hefty sum," said Tom Fitton, President of Judicial Watch.
Obama' total travel costs for the eight years he was in office stand at more than $114 million, according to Judicial Watch.
You can share this story on social media: