'People ran out of the building with their hands up': Witness recalls YouTube HQ shooting (VIDEO)
Published time: 4 Apr, 2018 10:26
Edited time: 5 Apr, 2018 12:59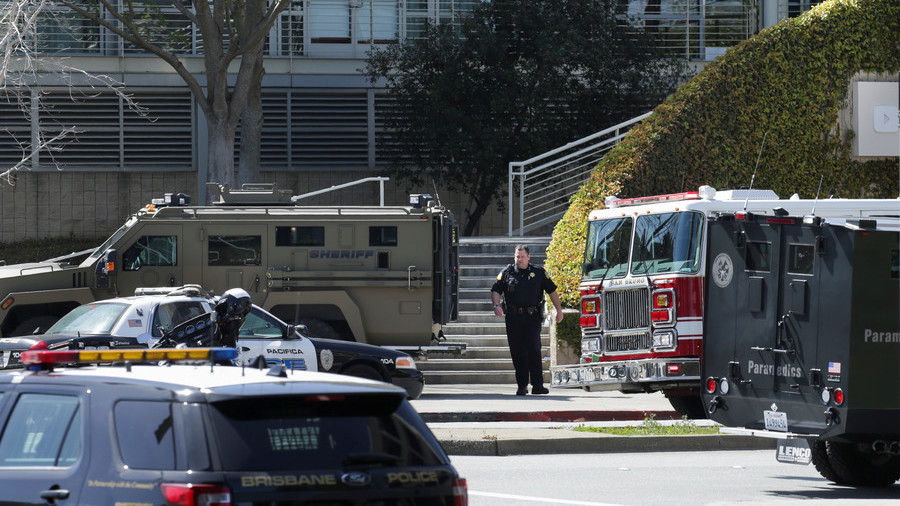 A man who witnessed chaos following the YouTube HQ shooting has recalled hearing sounds of gunshots and scared people running out of the building.
Eddie de Salvio told Ruptly agency that his normal lunch break took a dramatic turn on Tuesday. "After I first thought I heard a shot, maybe approximately two or three minutes at most… I saw cop cars come really, really fast down the street. That's how I knew something was wrong."
He recalled heading back to the fourth floor of his building, which gave him a good view of YouTube's offices. "There was a lot of pressure, a lot of anxiety just in the room… everybody was just hoping for the best."
De Salvio said that he and his co-workers watched people running out of the YouTube building with their hands up, or with their hands behind their head. "We just saw all the cops, the SWAT team, and everybody was with guns, with shields, sort of calculating and making their way to and into the building."
READ MORE: YouTube shooter identified, reportedly slammed video platform for discrimination (VIDEO)
The incident at YouTube's headquarters occurred just past mid-day local time on Tuesday, when 39-year-old Nasim Najafi Aghdam opened fire. Four people were injured, three of whom suffered gunshot wounds, according to police. The shooter was found dead at the scene, in what appeared to be a self-inflicted gunshot wound.