FBI & California police swarm scene of YouTube HQ shooting (VIDEOS)
Published time: 3 Apr, 2018 21:23
Edited time: 4 Apr, 2018 13:58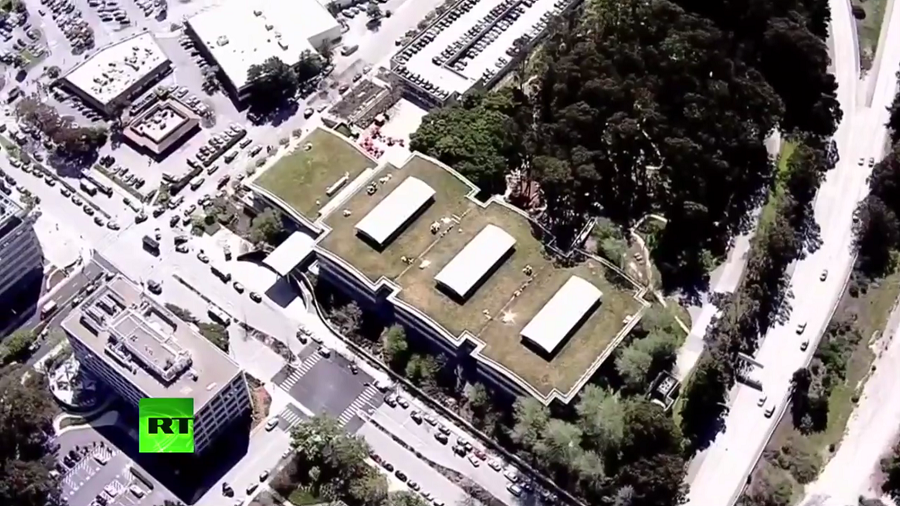 Numerous law enforcement agencies are continuing to sweep through the YouTube headquarters in San Bruno, where a female suspect shot at least three people before allegedly taking her own life.
Several people have been injured and the suspected shooter was found dead after an unidentified gunman stormed the campus of YouTube global headquarters in California.
READ MORE: 4 wounded, shooter reported dead at YouTube HQ (PHOTOS)
San Bruno Police Department (SBPD) responded to an active shooter situation shortly after receiving reports of the attack on Cherry Ave and Bay Hill Drive at 12:48pm. After searching the premises of the outdoor cafe on the grounds of the facility, the SBPD discovered four victims, in addition to the female suspect who apparently died from self-inflicted wounds.
"We have four victims that have all been transported with gunshot-related injuries, and we have one subject who is deceased inside the building with a self-inflicted wound that at this time we believe to be the shooter," San Bruno Police Chief Ed Barberini told reporters outside YouTube headquarters. Previously, San Francisco General Hospital and the Stanford Medical Center had confirmed taking in patients from the scene.
"We did encounter one victim with an apparent gunshot wound towards the front of the business as we arrived. Several minutes later while conducting a search of the premises, officers located the second individual with a gunshot wound that appears to be self-inflicted. We are still working on confirming that. Two additional victims were located several minutes later in an adjacent business," the officer added.
Multiple law enforcement agencies that have responded to the incident are continuing to process the scene. In addition to conducting the additional sweep of the premises, the police are now proceeding to interview eyewitnesses to ascertain a possible motive for the Tuesday afternoon attack. The name of the alleged shooter has not been released, and authorities could not confirm whether the attacker worked for YouTube.
Think your friends would be interested? Share this story!