YouTube HQ shooting made news only because of location – former FBI agent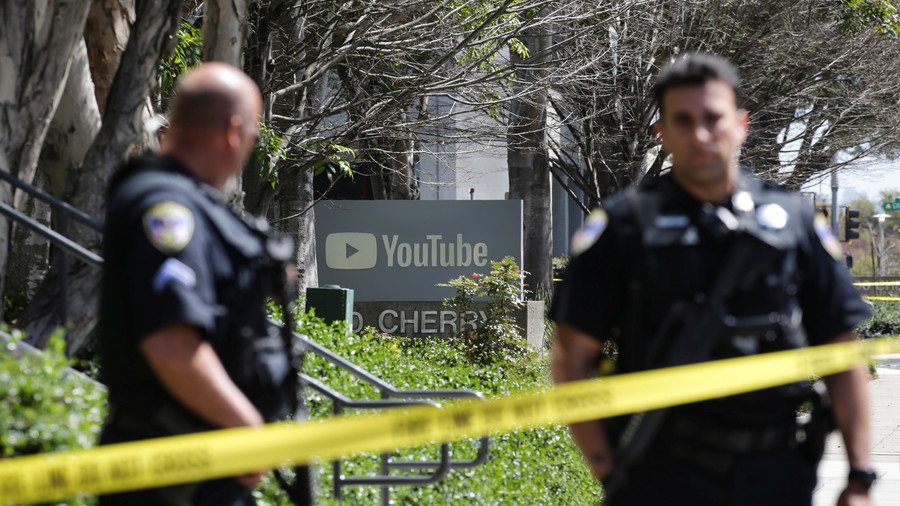 Deadly shootings are such a common occurrence in the US that the incident at YouTube headquarters, in which three people were injured, would not even make national news if it happened at a less prominent location, experts told RT.
Three people have been injured by gunfire at the YouTube campus in San Bruno, California, after a female shooter stormed the global headquarters of the world's largest video sharing website on Tuesday afternoon. A 36-year-old man in a critical condition, a 32-year-old woman in a serious condition and a 27-year-old woman in a fair condition were each taken to nearby hospitals. The fourth reported victim suffered an ankle injury while fleeing the scene.
READ MORE: Armed woman shoots 3 people, kills self at YouTube HQ (PHOTOS, VIDEO)
Once law enforcement agencies arrived at the scene they discovered the alleged attacker with a fatal "self-inflicted" injury. While authorities have yet to establish the motive for the attack, "the fact that the shooter is a female is extremely rare," Jaclyn Schildkraut, Assistant Professor of Public Justice at the State University of New York (SUNY) at Oswego, told RT.
"Typically, female shooters choose locations that have opportunities that are familiar to them – school, workplaces and the like," Schildkraut noted.
As numerous law enforcement agencies continue their investigation into the attack, local media is reporting that the shooting could have been triggered by a domestic dispute and that the primary target of the attack was the shooter's boyfriend. Other news outlets have suggested that the attack could have been work-related.
While the story is still developing, ultimately the incident is unlikely to qualify as a "mass shooting" event under US Congress guidelines, which define "mass killings" as at least "3 or more killings in a single incident."
"This one does not qualify as a mass shooting because in order to qualify as a mass shooting you have to kill four people or more," retired FBI agent Coleen Rowley told RT. "If a shooting like this had occurred in a place other than YouTube, it may not have even made national news, they are so common."
Over the last year, a number of horrific mass shootings have shocked the US, and the trend has continued into 2018. In one of the worst school shootings massacres in US history, seventeen people were killed and seventeen more were wounded when 19-year-old Nikolas Cruz stormed Stoneman Douglas High School in Parkland, Florida on February 14.
Basing her opinion on her research of school and other mass shootings in the United States, Schildkraut explained that the perpetrators tend to choose "soft targets" where they are less likely to encounter any "friction" with other armed individuals. "Gun-free zones tend to be more popular among mass shooters because they are going to have less restriction or less friction for them to be able to carry out their plans," the researcher explained.
"We have never seen a shooting at this type of prominent location in terms of being a workplace if it does turn out to be a workplace shooting," Schildkraut continued. "Certainly, YouTube and Google are very high-profile locations. And of course, YouTube has been in the news, with the fact that the Parkland shooter had posted comments on there, being a professional shooter. So, it certainly raises suspicions [as to] whether this is a symbolic target of sorts."
"In the United States, after 16 years of perpetual war, we are seeing this blowback in terms of all kinds of different shootings," Rowley explained. "If we continue to have this culture that encourages war and violence we are going to see people believe that shooting somebody is the answer to their problems."
While the Stoneman Douglas High School massacre has prompted fresh debates about gun control in the country, Rowley believes that it is nearly impossible to curb gun violence in the US, which has more than 300 million guns protected by the second amendment, which President Donald Trump has repeatedly vowed to honor.
THE SECOND AMENDMENT WILL NEVER BE REPEALED! As much as Democrats would like to see this happen, and despite the words yesterday of former Supreme Court Justice Stevens, NO WAY. We need more Republicans in 2018 and must ALWAYS hold the Supreme Court!

— Donald J. Trump (@realDonaldTrump) March 28, 2018
"I think there should be some kind of common sense restrictions on gun ownership. I think it might go a certain distance in helping to resolve some of these problems. Security can be beefed up in schools, etc., but it is not a full answer because there are all kinds of public places – concerts, marathons – where people gather," the former FBI agent told RT.
READ MORE: Ban guns & NRA? Politicians & celebs react to YouTube HQ shooting
While no set definition of a mass shooting exists, in 2015 some 333 mass shootings left 367 people dead and 1,328 injured, Business Insider related earlier this year, citing federal figures. The following year, 383 mass shootings resulted in 456 deaths and 1,537 injuries. In 2017, there were 346 mass shootings that led to 437 deaths and 1,802 injuries. Most of those shooting appear to have had nothing to do with terrorism but stemmed instead from more 'domestic' issues.
"In terms of whether or not [Tuesday's YouTube shooting] qualifies as a mass shooting is certainly going to depend on the definition one is using," Schildkraut cautioned.
Editor's note: The original headline for this article has been changed to more accurately reflect the comments made by Coleen Rowley.
Like this story? Share it with a friend!
You can share this story on social media: