Thousands take to the streets in 'March For Our Lives' gun control rallies (PHOTOS, VIDEOS)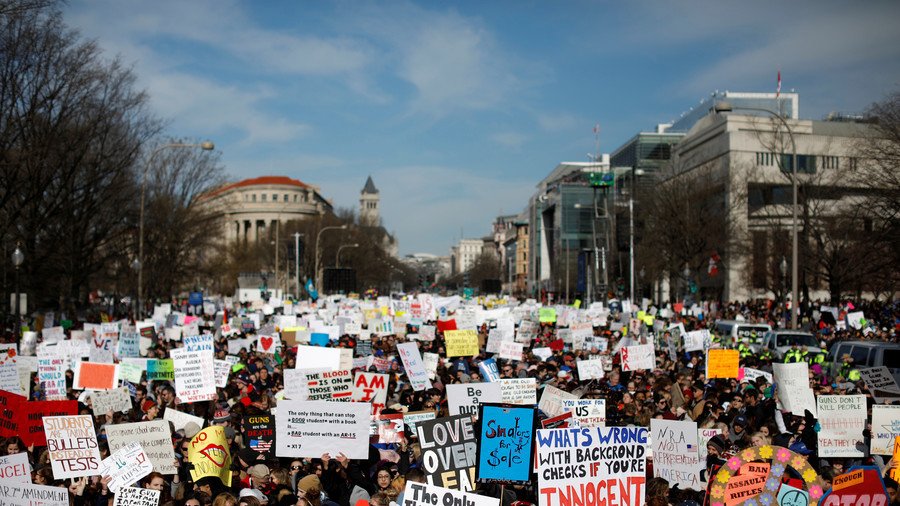 Hundreds of thousands of people are expected to take part in the 'March For Our Lives' gun control rally in Washington DC. The rally, organized by student victims of gun violence, is one of 700 events taking place across the US.
The landmark event follows the killing of 17 students at Marjory Stoneman Douglas High School in Parkland, Florida in February. The teenage survivors of the massacre have since become prominent voices in the anti-gun violence movement, leading criticism of US President Donald Trump as well as congressional opponents of new gun control legislation. Their activism has now led them to organize March For Our Lives, an event which will feature a majority of teenage speakers.
READ MORE: 'Someone's shooting up the school': Florida authorities release 911 calls made during massacre
"Everybody who's speaking is young. We don't have anybody over the age of what I think is 20, because this is our story," Parkland survivor Cameron Kasky told NPR Friday. "Our generation has had to deal with this the whole time. It's our time to talk. You know, you can send your thoughts and prayers. These are our thoughts. You have to listen now."
While the rally's organizers say they support the American culture of gun ownership, they are calling for a ban on the kinds of assault weapons and high-capacity magazines often used in school shootings. They also want Congress to close loopholes that allow unfit people to pass background checks for gun sales.
READ MORE: Australian-style gun control: Can US really learn from laws Down Under?
"We were the ones that were sitting there praying that, when we heard knocks on our door and the glass shattered, that it wasn't a shooter, that it was the police," Parkland survivor Alex Wind said at an event at Harvard University Wednesday. "I don't think this movement would be possible if we weren't teenagers."
Similar marches are being held in 700 cities across the country, with more than 10,000 people expected in New York and 50,000 in Los Angeles. There are a further 140 events being held in up to 37 countries, including Canada, Australia, New Zealand, Iceland, Japan and across Europe.

READ MORE: Student walkouts sweep US in major protest against school shootings (PHOTOS, VIDEOS)
Donald Trump is not in Washington DC ahead of the rally. The president left the White House for Mar-a-Lago, his Florida resort, Friday following the signing of a $1.3 trillion spending bill. A beneficiary of more than $30million worth of contributions to his presidential campaign from the National Rifle Association, Trump came under fire in the aftermath of the Parkland massacre. He was heavily criticized for his focus on the mental health of shooter, 19-year-old Nikolas Cruz, rather than the ease at which Cruz was allowed to acquire a gun. Cruz was indicted earlier this month on 17 counts of first-degree premeditated murder and 17 counts of first-degree attempted murder.
The March For Our Lives is the latest in a recent series of mass anti-gun protests. Earlier this month, school students across the US walked out of classrooms as part of a protest against gun violence. More than 3,000 schools registered to take part in the 'Enough! National School Walkout' event.
According to Gun Violence Archive, there have been 49 mass shootings in the US so far this year. Of the nearly 9,000 people killed or injured in the first three months of 2018, some 596 were people aged between 12 and 17.
Think your friends would be interested? Share this story!
You can share this story on social media: