Australian-style gun control: Can US really learn from laws Down Under?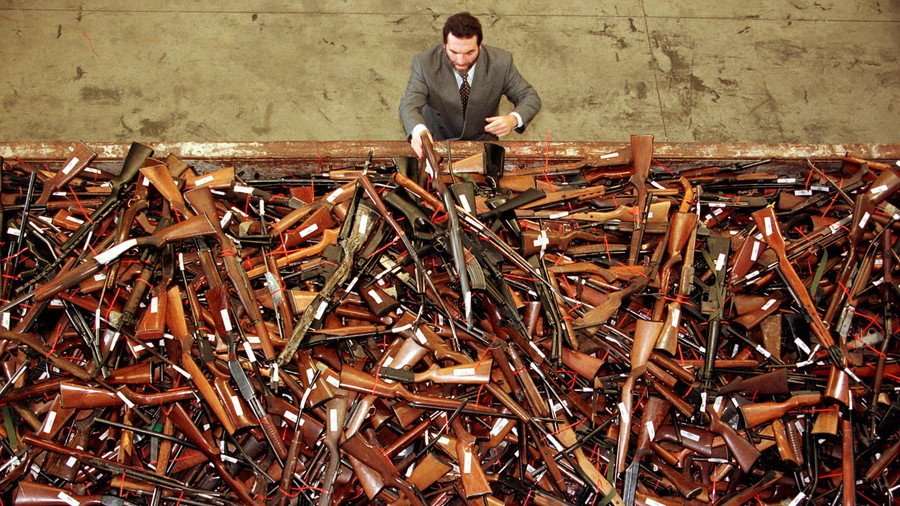 In the aftermath of mass shootings in the US, gun control advocates invariably point to Australia as having solved the problem. However, it may not be as simple as copying and pasting legislation to end mass shootings.
The most recent school shooting at the Stoneman Douglas High School in Parkland, Florida, in which 17 people were killed and 14 injured, has again kicked off one of the most volatile, emotive and divisive political footballs in US politics. Gun control advocates say "enough is enough," with victims-turned-advocates speaking out in televised town halls, while conservatives and Second Amendment purists call for more "good guys with guns" and deny or deflect that there's any problem at all. It didn't take long before Australia's gun buyback program was once again touted as a potential solution to America's mass shooting problem.
Australian Prime Minister Malcolm Turnbull met US President Donald Trump for talks in Washington in February but refused to offer unsolicited advice regarding the issue of mass shootings. "It's a completely different context historically, legally and so forth," Turnbull told a news conference, as cited by Reuters. "We certainly don't presume to provide policy or political advice on that matter here."
Following the Port Arthur massacre in Tasmania in 1996, in which 35 people were killed by a gunman who used a semi-automatic rifle, the federal, territorial and state governments in Australia quickly passed laws which effectively banned semi-automatic rifles and pump-action shotguns. They also extended waiting periods for both licenses and new weapons.
Mandatory gun safety training was instituted as well as restrictions on the amount of ammunition that could be purchased with additional conditions regarding "a mental or physical condition which would render the applicant unsuitable for owning, possessing or using a firearm." The gunman in the Port Arthur massacre lived with mental disability.
The Australian government then initiated a buyback system for the newly-banned weapons. Over 640,000 were bought back between October 1996 and September 1997 while legal weapons were also handed in, bringing the total closer to 700,000 firearms, reducing gun-owning households by half. The law has since been reviewed every six months for any potential updates.
In 2017, Australia held another gun amnesty program, the first in the 20 years since the original, which collected an additional 57,000 firearms, The Washington Post reported. Of the 57,000 firearms handed in, 35,000 were rifles and more than 12,000 were shotguns.
Only 2,417 semi-automatic weapons were handed over in 2017, according to the National Firearms Amnesty Report 2017. In addition, 4,816 "air rifles" were submitted in the amnesty and 162 "imitation" guns were handed in. However, more than 37,000 of the 57,000 figure were either being sold or were merely being registered officially, not actually being taken out of circulation.
Gun Control Australia believes that lawmakers, as well as the general population, are becoming "complacent" and worries that compliance has slipped in Australia. While it's still legal to own a gun in Australia, it's a complex and stringent process to go through, on paper at least. Owners are legally obliged to store firearms in gun safes and ammunition is to be kept in a separate compartment, all of which is subject to regular police inspection.
An independent report by Gun Control Australia found that no state or territory fully complies with the National Firearms Agreement, with the worst offenders being New South Wales, Queensland and Western Australia. In addition, the advocacy group claims that "when one jurisdiction erodes its laws the other states tend to follow, significantly weakening the national framework." This is particularly true as it pertains to minors possessing and using firearms, "removal of the 'cooling-off' period when acquiring second rifles or shotguns" and "allowing the use of high-powered semi-automatic firearms during 6-month probationary period."
"There is no doubt that Australia's gun laws has saved many lives and prevented an unbearable amount of grief," Samantha Lee, Chair of Gun Control Australia, told RT.com.
The Australian National Firearms Act was passed by a bipartisan coalition, effectively ending mass shootings and reducing gun violence throughout the country. Party lines in the US are so entrenched, however, that such consensus is largely inconceivable, regardless of the number of mass shootings, even ones of the magnitude of the Mandalay Bay Casino shooting in October 2017 in which 59 people were killed and more than 500 injured.
Indeed, even in Australia, the debate still rages about the efficacy of the gun control laws, centering around two primary questions: firstly, did the legislation merely accelerate already declining firearm homicide rates? And secondly, has the black market merely taken control of the firearms trade in Australia?
"The rates per 100,000 of total firearm deaths, firearm homicides and firearm suicides all at least doubled their existing rates of decline after the revised gun laws," a study, published in the peer-reviewed journal Injury Prevention in 2006 and republished in 2015, concluded. "The gun laws' main goal was to stop massacres: 13 in 18 years, then NONE in 22 years. Not rocket science," the study's lead author Professor S. Chapman of the School of Public Health, University of Sydney told RT.com.
Another study found that "the only category of sudden death that may have been influenced by the introduction of the NFA was firearm suicide," adding that other "societal factors could also have influenced observed changes."
"Firearm laws should always be based on evidence and facts, not emotion," Kate Fantinel, spokesperson for the Sporting Shooters Association of Australia (SSAA), told RT.com in an email. "The fact is, Australia's gun deaths were on the decline prior to the anomaly of Port Arthur. Our gun laws and the buy-backs were a knee-jerk reaction to a tragedy, and these laws have had many unintended consequences for the nation's law-abiding firearm owners."
"Gun ownership has certainly increased in Australia since 1996. The SSAA is approaching 200,000 members who participate in sports shooting or hunting and more than 1 million Australians own firearms," Fantinel added.
A systematic review of five studies on the effects of the gun control laws, including two cited by former Prime Minister John Howard's office, said none of the studies "found evidence for a statistically significant impact of Australia's 1996 legislative changes on firearm homicide rates."
"I believe that the gun control laws in Australia do help to curb homicide and suicide and gun related crime in Australia. However, I think that the laws are just one of many contributing factors to the declining homicide rates," Dr. Fay-Ramirez, a criminologist in the School of Social Science at the University of Queensland, told RT.com. "There is still debate in research on whether the laws specifically have resulted in declining rates."
"For example, medical advances mean that medical professionals are better able to save lives of those who have suffered gunshot wounds, a well-developed welfare state means that there is a safety net for Australians who find themselves in impoverished situations (a well-documented contributor of crime)."
"Of course, banning or regulating weapons does necessarily mean a change in criminal behaviour; those with a penchant to solve problems with violence can still do so by other means i.e. using a knife which is much easier to purchase. However, with appropriate medical attention, the victim of a knife attack may not suffer the same life threatening wounds as someone who is the victim of an attack with a semi-automatic or automatic firearm. Overall this may lead to less homicide because attacks don't necessarily end in death."
While there has been an irrefutable drop in firearm deaths overall, recent research has also shown a resurgence in overall gun ownership.
"The million guns destroyed after Port Arthur have been replaced with 1,026,000 new ones," Associate Professor Philip Alpers from the University of Sydney, and founding director of GunPolicy.org, told ABC News in 2016. "By 2015 the arms trade had broken all previous records, and last financial year Australia imported 104,000 firearms. Australia claims to have 'solved the gun problem' yet this could be a temporary illusion."
Population growth has, meanwhile, outpaced the arms trade so per capita firearm ownership is still 23 percent lower than it was prior to the Port Arthur massacre. "The proportion of households with a firearm fell by 75 per cent since 1988. Those who already possess several guns have bought more," Alpers said.
At present, there are an estimated 250,000 illegal long-arms such as rifles and 10,000 illegal handguns in Australia, ABC reports. The federal government is currently trying to implement a law which would introduce a mandatory minimum jail sentence of five years for those found guilty of trafficking illegal firearms.
"Having laws is the first step, but being able to enforce them effectively is the second part of the equation that is given less attention in the gun control debate. The fact that the number of guns has increased yet the homicide rate has been in decline is potentially a reason why the gun control laws have been successful in Australia," Fay-Ramirez concluded.
Like this story? Share it with a friend!
You can share this story on social media: