Street artist Sabo targets Facebook with posters mocking Zuckerberg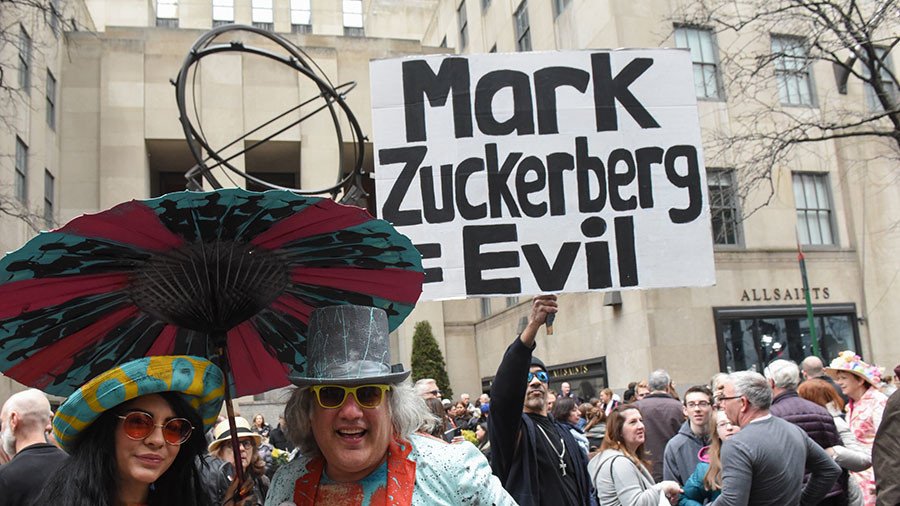 Mark Zuckerberg has been targeted by conservative street artist Sabo, with anti-Facebook posters springing up across New York City amid the ongoing Cambridge Analytica data mining scandal.
Fake street signs reading 'Caution, Facebook sells your data' and posters warning 'You can't watch your kids 24/7, but we can' were put up around Times Square and other busy New York locations.
Some of the posters included a picture of New York Senator Chuck Schumer, whose daughter works for the social media giant as a product marketing manager."Chuck's daughter is working for Zuck," the posters read, followed by a #ZuckSchumer hashtag.
Other posters showed former congressman Anthony Weiner, who was previously involved in multiple 'sexting' scandals and has recently been sentenced to 21 months in prison for his Facebook communications with an underage girl.
It's not the first time Sabo has targeted Facebook. Last year, the artist put up posters in Californian cities with the slogan 'F**k Zuck' in response to rumors that Zuckerberg was interested in running for president. Sabo's Facebook page was temporarily taken down for promoting "hate speech" after that campaign.
Sabo's latest attack on Facebook comes as Zuckerberg deals with fallout from the Cambridge Analytica scandal, which revealed that the social network allowed the British firm to use data from 50 million users for political targeting and psychological profiling.
Sabo has gone after other liberal political and media figures, including Hillary Clinton, Barack Obama, Lena Dunham and Meryl Streep.
Like this story? Share it with a friend!
You can share this story on social media: