'Right-wing Banksy' plasters LA with pro-Trump slogans (VIDEO)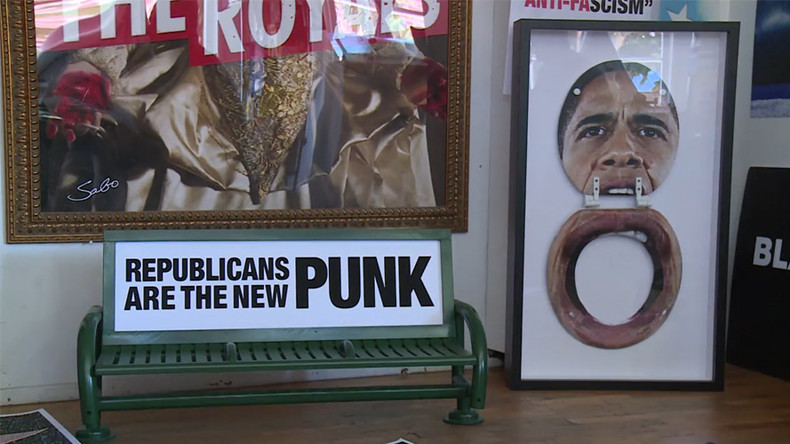 A former US Marine who sees himself as the right-wing equivalent of famed street artist Banksy has been busy plastering Los Angeles with posters supporting the Republican Party and Donald Trump.
The man, who calls himself Sabo, believes he is the only one on the right of the political spectrum doing such street art, and he has made a living out of his political art.
"I'm a right-wing guerilla artist, as far as I'm concerned or as far as I know I'm the only person that does it. On the other side you've got Shepard Fairey, Banksy, Robbie Conal and I'm pretty much the only one on my side that does this 24/7."
The Republican supporter prints his pieces in the format of posters and t-shirts, which he sells by the dozens internationally every week.
READ MORE: Will police arrest Banksy for offering anti-Tory voters a limited edition print?
"I think Trump is as punk rock as punk rock has ever been," the artist said.
Quite how a 70-year-old billionaire property magnate and reality TV star president is "punk rock" Sabo does not explain. One thing, however, is clear – he loves his president, though he also likes to "party" with those on the left.
READ MORE: Banksy's Bethlehem hotel offers room with a view of West Bank barrier (PHOTOS)
"If I was to think of the left, I would think they're great to party with, great to get stoned and high with, drunk with, I love the left. But when it comes to them governing they're fucking crazy. It's like they wanna take control of every aspect of your life."
The artist gained national attention among Republican Party supporters during the US primaries thanks to a poster of Republican Candidate Ted Cruz depicted as convicted gang member covered in tattoos.
You can share this story on social media: