Will police arrest Banksy for offering anti-Tory voters a limited edition print?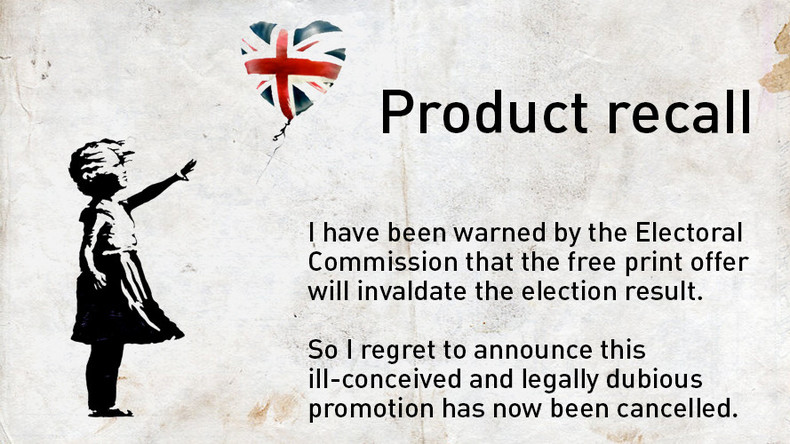 Police are investigating after British street artist Banksy offered one of his limited edition prints to anyone who votes against the Conservative Party in six Bristol constituencies on June 8.
Banksy offered a limited edition artwork that reprises the acclaimed 'girl with balloon' motif, adapted so that the balloon bears the Union flag.
Avon and Somerset police said they are investigating the issue after receiving several complaints.
They also said anyone involved in the bargain could be prosecuted as it is a criminal offence.
"We've received a number of complaints about an offer of a free Banksy print to people living in six Bristol constituencies in exchange for them voting in a certain way in the forthcoming election and we can confirm we're investigating the offer," a police spokesman said.
"It is a criminal offence under the Representation of the People Act 1983 for any voter to accept or agree to accept a gift or similar in return for voting or refraining from voting.
"Any person participating in an offer to receive a gift is at risk of being prosecuted."
In a post on his website, Banksy said anyone from the Bristol North West, Bristol West, North Somerset, Thornbury, Kingswood, and Filton constituencies, whose seats are held by Tory MPs, could claim the print, as long as they cast a vote against the Conservative Party in the June 8 election.
The print would then be issued the next day.
"Simply send in a photo of your ballot paper from polling day showing you voted against the Conservative candidate and this complimentary gift will be mailed to you," the artist wrote.
A legal disclaimer also claimed the print was merely being offered for "amusement purposes" and that it did not seek to "influence" the election result in any way.
The offer, however, seems to have been retracted, as Banksy's homepage directs you to a picture of the print with a statement reading: "I have been offered by the Electoral Commission that the free offer will invalidate the election.
"So I regret to announce the ill-conceived and dubious promotion has now been cancelled."
The Electoral Commission warned that "where someone directly or indirectly gives any money or procures any office to or for any voter, in order to induce any voter to vote or not vote," it is an electoral offence.
Charity Crimestop also warned voters to beware of bribery as they head to the polls this week
"It's illegal to offer money or gifts to voters, directly or indirectly, to get someone to vote a certain way, or not to vote at all."
You can share this story on social media: