Anti-Google street art pops up near Google offices in response to firing of diversity memo author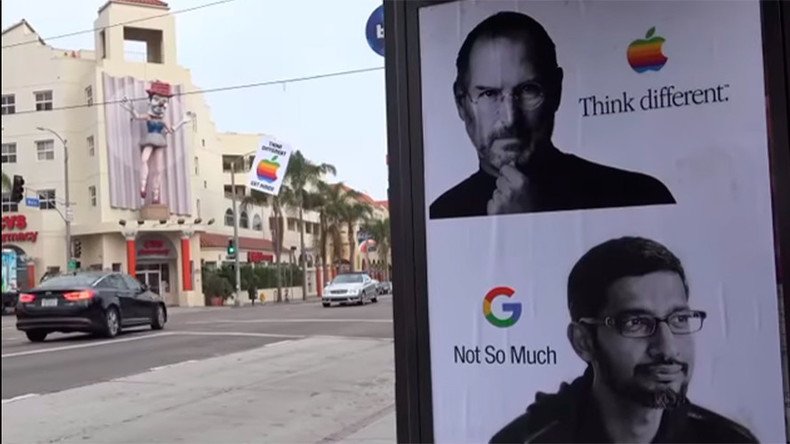 Spoof ads are appearing all around Google offices in California after the tech giant fired an engineer over a politically incorrect internal memo. A free speech protest has also been organized against Google over the controversy.
On Friday, a street artist who goes by the name Sabo took credit for plastering anti-Google fake ads just outside Google offices in Santa Monica and Venice, California.
In one of the ads, the classic Apple slogan, "Think different," is printed next to an image of Apple CEO Steve Jobs, while the words "not so much" are printed next to an image of Google CEO Sundar Pichai. Another ad features Google's iconic styling with the word "Goolag," a reference to Soviet labor camps, known as Gulags.
Sabo posted images of the ads in a series of tweets Friday, along with a message telling Google to "search these keywords 'go F***k yourselves.'"
Sabo, a self-proclaimed right-wing artist, says his mission is to be "to be as dirty, ground level, and mean as any Liberal artist out there."
The ads were apparently made as a protest of Google firing James Damore, an engineer who distributed a 10-page memo that argues the gender gap between men and women working in tech and leadership positions is due to biological and psychological differences. Damore's memo also accused Google of silencing conservative political voices within the organization.
In an Op-Ed for the Wall Street Journal on Friday, Damore wrote that he was fired because he "committed heresy against the Google creed by stating that not all disparities between men and women that we see in the world are the result of discriminatory treatment."
On Monday, Pichai sent a note to Google employees which said that some parts of Damore's memo "violate our Code of Conduct and cross the line by advancing harmful gender stereotypes in our workplace,"Bloomberg reported.
Since being fired, Damore has received several job offers, including one from WikiLeaks founder Julian Assange, who posted a series of tweets on Tuesday defending Damore.
Damore's defenders have also organized a nationwide #MarchOnGoogle protest for August 19, where they say they will be "exercising their free speech rights, which Google does not respect, by protesting in front of the homes of Google's executive team."
"Google is a monopoly, and it's abusing its power to silence dissent and manipulate election results," the organizers wrote on their website. "Their company YouTube is censoring and silencing dissenting voices by creating 'ghettos' for videos questioning the dominant narrative. We will thus be Marching on Google!"
The group has scheduled marches to be held "anywhere Google has an office" including Atlanta, Los Angeles, Pittsburgh, Seattle, Mountain View, New York City, Washington DC, Austin, and Boston.
On Tuesday, Damore created a new Twitter account with the handle @fired4truth and a profile picture showing him wearing a tee shirt with a "Goolag" logo similar to the one that was posted on a bus bench in Venice on Friday. He also retweeted several images of the street art on Friday and interviews he had with two prominent figures from the Alt-Right movement.
Damore reportedly filed a lawsuit against Google on Monday, according to Business Insider. However, his name does not appear in the document and the actual filing is not yet available online yet.
Google is also being sued by the US Department of Labor, who are accusing the tech giant of systematically discriminating against women.
Google denies the claims and says that it does not have a gender gap in pay. However, the tech giant has refused to show the department any proof of this assertion. A recently released demographic report by the company states that men make up 69 percent of its workforce and 80 percent of its technical staff.
You can share this story on social media: