'Go away' Hillary, says Obama-era foreign policy adviser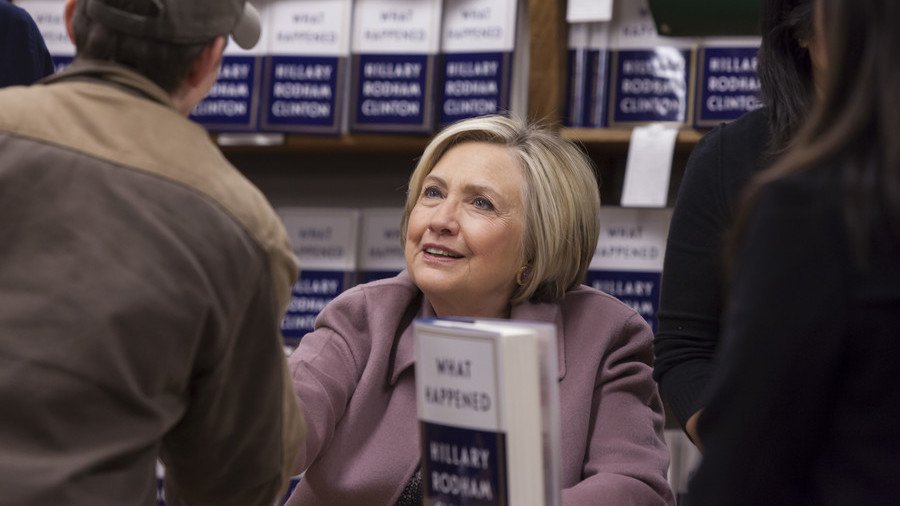 Hillary Clinton must stop making excuses for losing the 2016 election and leave the Democratic Party's future to others. That's according to a former State Department spokesperson and adviser to ex-Secretary of State John Kerry.
On Sunday, former State Department senior adviser of strategic communications, and now a Fox News contributor, Marie Harf, told Fox News Sunday that Clinton should "take a very long vacation and leave the future of the party to other people."
Harf's comments came after Clinton recently said female voters were among those responsible for her 2016 defeat to President Donald Trump. While on a tour of India to promote her book 'What happened?' last week, Clinton said women voted against her due to "a sort of ongoing pressure to vote the way that your husband, your boss, your son, whoever, believes you should."
"Is that kind of a curious analysis from a feminist?" host Chris Wallace asked Harf, who advised Kerry on the Iran nuclear deal negotiations strategy, towards the end of the 47-minute show.
"Yes, you're right. And she should go away," she responded, despite Clinton's "historical role" as being the first female candidate to be nominated by a major party in a US presidential election.
"She is not helping the Democratic Party," Harf added. "And I think she should take a very long vacation and leave the future of the party to other people."
"I think the future of the party is not with her," Harf said, citing other Democratic candidates who have had a far better showing so far. On average other candidates have been 24 points higher in the 20 special elections of 2018. "The party of the future is not Hillary Clinton's party."
"I'm not going to psychoanalyze why she keeps giving excuses for it," Harf said of Trump's victory, which she said even surprised Republicans. "But it's not what Mitt Romney did. It's not what John Kerry did. It's not what Al Gore did."
"And if your goal is to help the party and help us understand how to get white working class men and women back in the Midwest, this is not helpful to that cause."
Clinton famously alienated white working-class voters in a September 9, 2016, speech at an LGBT fundraiser in New York.
"To just be grossly generalistic, you could put half of Trump's supporters into what I call the basket of deplorables," she said, calling them "racist, sexist, homophobic, xenophobic, Islamophobic, you name it."
After her defeat, Clinton released a book titled, 'What happened,' in which she lists everything and everyone she believed to be responsible for her failure: from the FBI investigation into her use of a private email server for State Secretary correspondence, her main Democratic rival Bernie Sanders, to, of course, the supposed "Russian meddling" that Democrats in the House and the Senate are now relentlessly trying to link to Trump's victory.
Think your friends would be interested? Share this story!
You can share this story on social media: