US Navy boasts 'historic first' shipboard deployment of F-35B to Pacific (PHOTOS, VIDEO)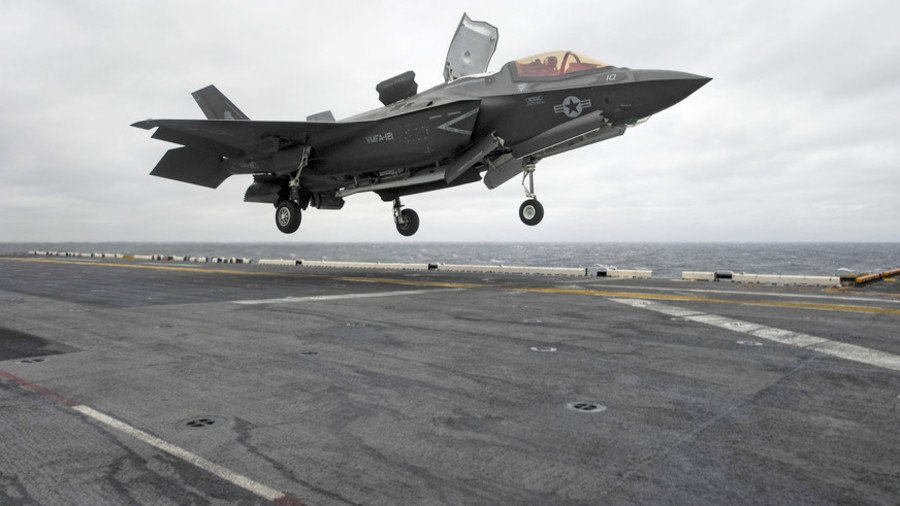 The US Navy boasts that it has deployed its first carrier-load of F-35B stealth attack planes to the Pacific Ocean. The USS Wasp departed Japan with an airworthy squadron of the super-expensive jets aboard.
"Pairing F-35B Lightning IIs with the USS Wasp represents one of the most significant leaps in warfighting capability for the Navy-Marine Corps team in our lifetime," US Navy Rear Admiral Brad Cooper said in Monday's statement. The Navy said it was "the first time the aircraft has deployed aboard a US Navy ship and with a Marine Expeditionary Unit in the Indo-Pacific."
The ship set sail from the US Navy overseas base at Sasebo on the southern Japanese island of Kyushu on Saturday. It had six of the F-35B short take-off and vertical landing (STOVL) variants of the Lockheed Martin jets from the US Marine Corps VMFA-121 Fighter Attack Squadron on board.
The voyage follows a year of escalating tensions between the US and North Korea over Pyongyang's nuclear weapon and ballistic missile tests, as a trade war looms with China.
The USS Wasp is a 40,000-ton amphibious assault ship built by the US Marine Corps for launching seaborne invasions. It is a far cry from the Navy's 10 USS Nimitz-class supercarriers which weigh in at 100,000 tons and can carry 90 aircraft each. The Wasp carries a mere six F-35Bs in its full aircraft complement.
With a projected $1.5 trillion spent over its lifetime, the F-35 is the most expensive weapons system ever built. But critics say it has inferior performance to the four tried and tested aircraft models it was designed to replace: the F-16 Falcon, F/A-18 Hornet, A-10 Warthog tank buster and AV-8 Harrier II jump-jet.
The aircraft's development and in-service program has also been plagued with technical hitches. On Monday, the Pentagon confirmed that 49 percent of the 280 F-35s that have been delivered to the US Air Force, Navy and Marine Corps so far were suffering from a litany of software and hardware problems, leaving only half of the force airworthy.
Think your friends would be interested? Share this story!
You can share this story on social media: