'Dark clouds of a war': North Korea will 'counter US' if it holds drills with Seoul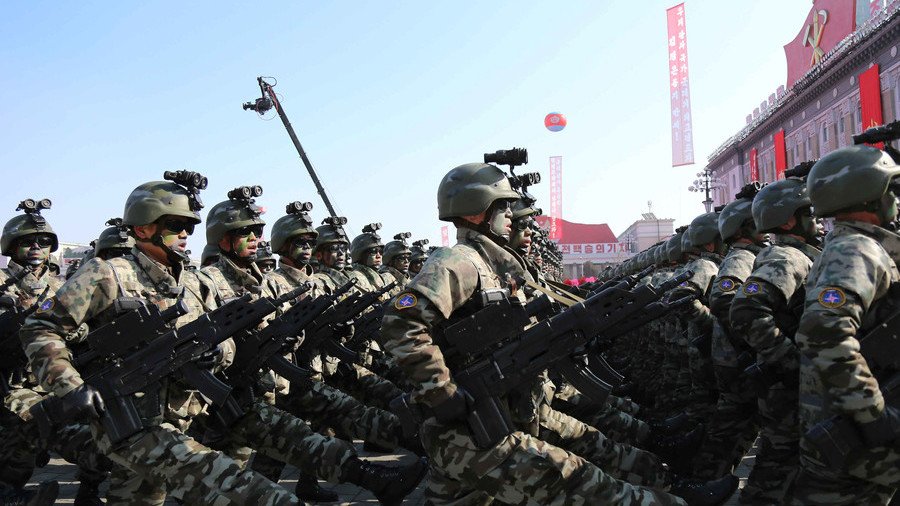 North Korea has threatened to "counter the US" if Washington holds joint military exercises with Seoul while still enforcing sanctions against Pyongyang.
"If the US finally holds joint military exercises while keeping sanctions on the DPRK [Democratic People's Republic of Korea], the DPRK will counter the US by its own mode of counteraction and the US will be made to own all responsibilities for the ensuing consequences," North Korea's official KCNA news agency said in a commentary on Saturday. "The US should clearly understand this and exercise prudence."
The US is due to begin joint exercises with Seoul in early April, a South Korean presidential security adviser said earlier this week, as quoted by Yonhap news agency. The plan has angered North Korea, which has long seen joint drills as a threat.
The KCNA commentary referred to the scheduled drills as an intention by America "to bring dark clouds of a war to hang over the Korean Peninsula." It also called for the US to be denounced by the international community, accusing Washington of aiming to "aggravate the situation on the Korean peninsula at any cost."
Pyongyang also said on Saturday that it is willing to have talks with the US, but that it rejects Washington's demands that it must first demonstrate willingness to denuclearize.
"In decades-long history of the DPRK-US talks, there had been no case at all where we sat with the US on any precondition, and this will be the case in future, too,'' a spokesperson for North Korea's Foreign Ministry said in comments carried by KCNA. "The US attitude shown after we clarified our intention for DPRK-US dialogue compels us to only think that the US is not interested in resuming the DPRK-US dialogue.''
The statements come after the US announced on February 23 that it was imposing its largest package of sanctions on Pyongyang, in an effort to pressure it to give up its nuclear and ballistic missile programs. US President Donald Trump also warned of a "phase two" if the sanctions did not work, stating that they could be "very, very unfortunate for the world."
Meanwhile, Senator Lindsey Graham said on Thursday that any damage caused by a war with North Korea would be "worth it." His remarks fueled further speculation that the US is gearing up for action against its arch enemy.
Pyongyang isn't the only side that has slammed the US for conducting joint drills with South Korea. Moscow also believes it was Washington's saber-rattling and regular military drills in the region that provoked Pyongyang into "taking some rash action" after months of restraint, Foreign Minister Sergey Lavrov said following North Korea's latest intercontinental ballistic missile (ICBM) test in November.
Both Russia and China have repeatedly proposed a so-called "double-freeze" plan which would see the US suspend military exercises with South Korea in exchange for Pyongyang halting its missile and nuclear tests. However, that plan was swiftly rejected over the summer by the US, which claims it has the right to conduct military exercises with its South Korean ally.
Think your friends would be interested? Share this story!
You can share this story on social media: