North Korea slams US for sanctions & 'clouds of war' but says it is open for talks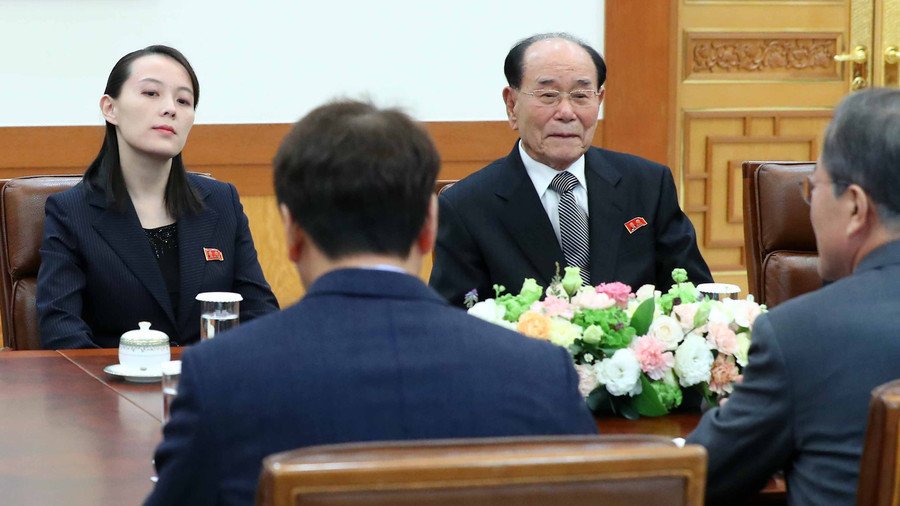 Pyongyang has accused Washington of bringing "clouds of war" to the region by imposing "the largest-ever" sanctions during the Olympic Games, but says it is still open to direct talks with the US.
A statement published by state news agency KCNA hailed North Korea's leadership for their "strong determination for peace, long-awaited inter-Korean dialogue and cooperation," which began to surface during the 2018 Pyeongchang Winter Olympics. The statement went on to say that Washington is violating the Korean Olympics truce and "is running amok to bring another dark cloud of confrontation and war over the Korean peninsula" by announcing new wave of sanctions against the North.
"We came to possess nuclear weapons, the treasured sword of justice, in order to defend ourselves from such threats from the United States," the statement read, adding that "we will consider any type of blockade an act of war against us."
On Friday, Washington announced"the largest-ever set of new sanctions on the North Korean regime," targeting the country's industries and exports.
Twenty-seven foreign companies, 28 ships, and one person – mainly based in China, Hong Kong, Taiwan, and Singapore – were sanctioned, according to the US Treasury. US President Donald Trump has said that "if the sanctions don't work, we will have to go to phase two, and phase two may be a very rough thing, may be very, very unfortunate for the world."
The president did not specify what exactly he meant by "phase two," but qualified the statement by saying he did not think he was "going to exactly play that card."
Still, Pyongyang says it is open for direct talks with Washington and continues negotiations with Seoul. On Sunday, South Korean President Moon Jae-in hosted Kim Yong-chol, vice chairman of the Central Committee of North Korea's ruling Workers' Party, in Pyeongchang, Yonhap reports. This was President Moon's second meeting with top-tier North Korean officials in just two weeks.
Previously, he held talks with a delegation which included Kim Jong-un's sister, Kim Yo-jong, who delivered a special message from her brother, inviting Moon to Pyongyang in future. Moon has yet to accept the invitation, and if he does, it would be the first visit by a South Korean head of state since 2007, when then-President Roh Moo-hyun met with Kim Jong-il in Pyongyang.
READ MORE: If sanctions on North Korea won't work, we'll go to 'Phase Two' – Trump
The Trump administration seems to be wary of the ongoing inter-Korean détente which started earlier this year with high-level contacts between the two countries' officials. Notwithstanding some promising statements by US Vice President Mike Pence, Washington is continuing its policy of sanctions and military pressure.
This spring, the US and South Korea will resume massive military drills – Foal Eagle and Key Resolve. Though Washington and Seoul maintain that the exercises are critical to prepare for a North Korean attack, Pyongyang views the wargames as a rehearsal for invasion, and has threatened retaliatory strikes.
Russia and China have consistently urged caution in the matter. In January, the two countries put forward a 'double freeze' initiative that envisaged the US and its allies ceasing all major military exercises in the region in exchange for North Korea suspending its nuclear and ballistic missile program. The initiative was rejected by Washington.
Think your friends would be interested? Share this story!
You can share this story on social media: