'Maybe we'll give it a shot,' Trump reportedly said of China's presumed 'lifelong presidency'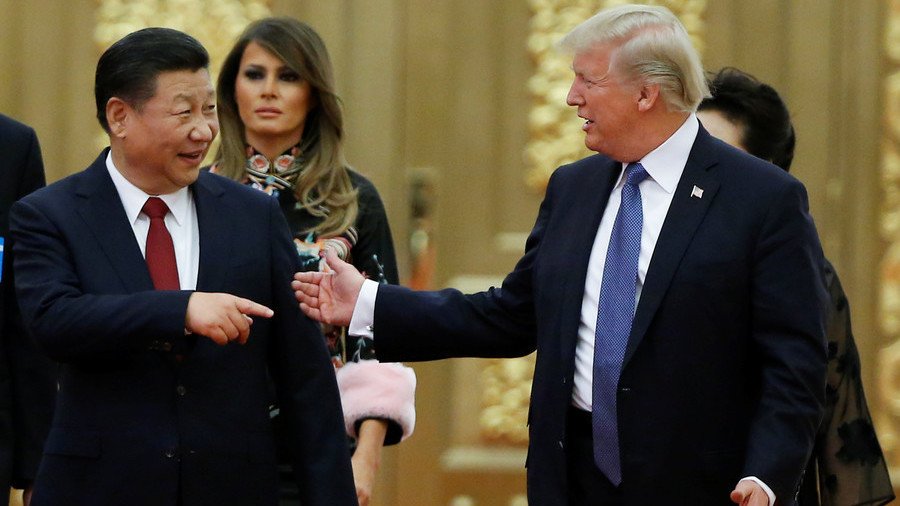 US President Donald Trump has again invoked wrath online after reports that he praised the Chinese ruling party's move to repeal presidential term limits. Trump supposedly believes this makes Xi Jinping "president for life."
The US leader reportedly let the remark slip during a fundraiser he was hosting at his Mar-a-Lago resort in Florida on Saturday. The story was reported by CNN, which claims to have obtained a recording.
"He's now president for life. President for life. And he's great," Trump reportedly said of Xi, referring to the reports that China's Communist Party proposal to repeal term limits can end up in a lifelong presidency for the Chinese leader. "And look, he was able to do that. I think it's great. Maybe we'll give that a shot some day," he added, according to CNN, which reported Trump was in high spirits as he made the triggering remark.
In late February, China's Central Committee proposed removing a constitutional limit on the number of consecutive terms for the president and the vice president, as well as making Xi Jinping's program manifesto on the country's political system a part of the Constitution.The amendment to codify the changes in the law is slated to be approved at the forthcoming meeting of China's Parliament this month.
This caused Chinese social media to explode with speculations that Chinese President Xi Jinping is seeking to extend his tenure indefinitely. Faced with the backlash, the Chinese Communist Party paper denied that the amendment paves the way for Xi's life-long rule, clarifying that it "does not mean changing the retirement system for party and national leaders, and does not mean a life-long term system for leading officials."
It is common for high-ranking Chinese officials to go into retirement when they reach the age of 68. While the rule is unwritten, the senior officials tend to abide by it. Xi is currently 64.
During the fundraiser, Trump also took a swipe at Attorney General Jeff Sessions for his lackluster response to Trump's calls to launch an investigation into Hillary Clinton's email scandal.
"It's a rigged system. And we don't have the right people in there yet. We have a lot of great people, but certain things, we don't have the right people," he said, before asking "is Hillary a happy person?"
"When she goes home at night, does she say, 'What a great life?' I don't think so. You never know. I hope she's happy," he said.
Trump's reported gaffe triggered a predictable Twitterstorm. Rep. Rohit Khanna (D-California) called it "the most un-American sentiment expressed by an American President."
"George Washington would roll over in his grave," he wrote.
Trump's critics also rushed to accuse him of showing "autocratic" tendencies with his "beyond outrageous" joke.
Trump is recorded expressing jealousy about China's president Xi consolidating power by ending term limits: He is "president for life"; "Maybe we'll give that a shot some day."Trump said it. He wants to be a dictator..@realDonaldTrump, not in your wet dreams!#TrumpRussiapic.twitter.com/DKTtt7tGJJ

— Todd Matson (@twmentality1) March 4, 2018
And in a week of chaos and outrageous behavior by the president, his remarks today suggesting he might want to give "a shot" to become a leader for life like China's Xi takes the cake. Beyond outrageous. The man is a menace. https://t.co/1lIoK4QXvT

— David Rothkopf (@djrothkopf) March 4, 2018
TFW Trump declares he wants to be Forever President like Xi and you remember the people who thought he'd voluntarily leave office pic.twitter.com/IoqZjh8F0Y

— Anna Lind-Guzik (@alindguzik) March 4, 2018
Trump's supposed adulation for Xi comes amid a bitter economic row with China, the EU and Canada over his recent decision to impose a 25 percent tariff on imported steel and a 10 percent tariff on imported aluminum. While the announcement stoked fears of potential trade wars, Trump indicated that he would not mind starting a few, as they are "good and easy to win."
On Friday, China said it is mulling whether to retaliate against the proposed measures. Trump has been antagonizing China since before the start of his presidency. He infamously challenged the "One China" policy by taking a congratulatory call from the president of Taiwan, which Beijing considers its territory, and repeatedly accused China of undermining the US economically.
You can share this story on social media: