Soros accuses Trump of seeking 'mafia state,' pledges to devote efforts to Europe & US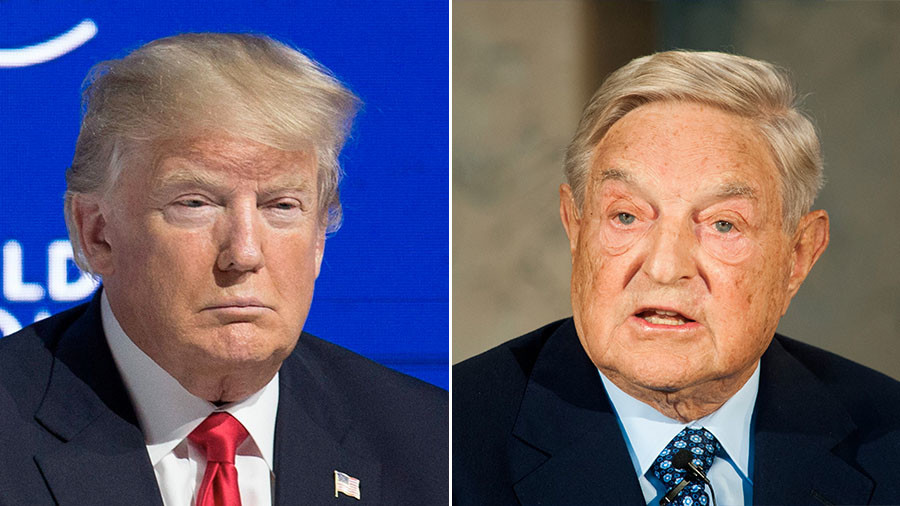 Billionaire George Soros says he will now devote his efforts to Europe and the US as he believes their 'open societies' are in danger. He accused US President Donald Trump of wanting to create a 'mafia state.'
"I find the current moment in history rather painful," remarked financial speculator Soros, 87, at the World Economic Forum in Davos, Switzerland on Thursday.
"Open societies are in crisis, and various forms of dictatorships and mafia states, exemplified by Putin's Russia, are on the rise. In the United States, President Trump would like to establish a mafia state but he can't, because the Constitution, other institutions, and a vibrant civil society won't allow it."
Soros' criticism of Trump comes as no surprise as he has been a longtime supporter of Clinton. Soros Fund Management donated $25 million to the Clinton campaign, a spokesperson told the New Yorker.
This time last year Soros called Trump a "would-be dictator" and predicted he would fail.
Soros has been the financial backer behind the progressive movement MoveOn. The Washington Post revealed in 2004 that Soros and his wife, Susan Weber Soros, gave $1.46 million to the organization.
Among the emails hacked from Hillary Clinton campaign chair John Podesta, and published by WikiLeaks, is a strategy document from Podesta's think-tank, the Center for American Progress, that sought financial support from Soros for grassroots efforts.
"I give President Trump credit for motivating his core supporters brilliantly, but for every core supporter he has created a greater number of core opponents who are equally strongly motivated. That is why I expect a Democratic landslide in 2018," Soros said.
Soros said previously his foundation has focuses on the so-called developing world, but "now that open society is also endangered here in the United States and Europe, we are spending more than half our budget closer to home because what is happening here is having a negative impact on the whole world."
Soros said there were grave dangers to be faced including the rise of authoritarianism in places like Hungary and that under Trump "the United States is set on a course toward nuclear war by refusing to accept that North Korea has become a nuclear power."
This refusal has created an incentive for North Korea "to develop nuclear capacity with all possible speed," Soros argued, which in turn "may induce the United States to use its nuclear superiority preemptively" and start a nuclear war. The only solution he added was to "come to terms with North Korea as a nuclear power."
For decades Soros made his fortune as a speculator of currency and hedge-fund manager and has campaigned on the values of democracy, pluralism and individuals rights around the world through his Open Society Foundations. Some skeptics however say his funding has incited some of the color revolutions often leading to disorder and confusion.
Soros said another of his goals is to help save the European Union, radically reinventing it by rethinking whether all members had to adopt the euro and adopting a multi-track approach of flexibility with countries forming coalitions to pursue particular goals rather than be dominated by a European bureaucracy.
You can share this story on social media: