'Take the guns first': Trump backs gun control at bipartisan White House meeting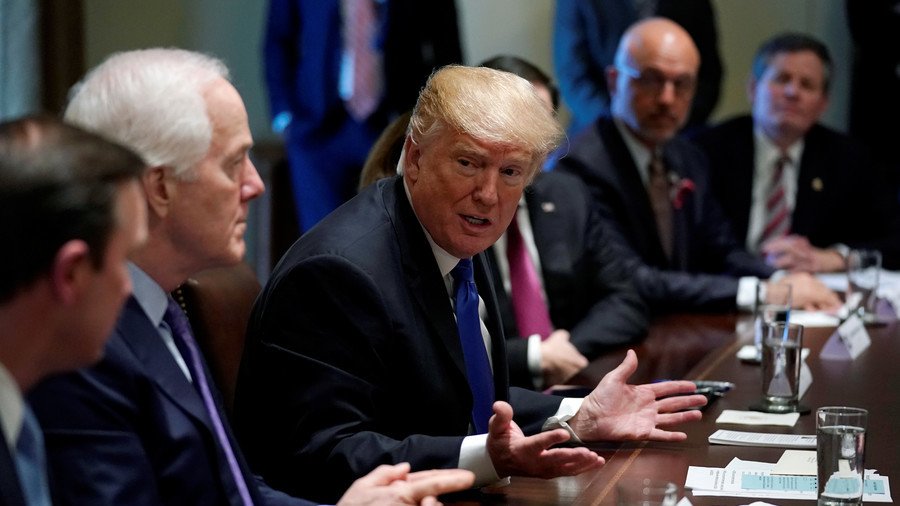 President Donald Trump sent shockwaves through US politics during a White House meeting with lawmakers, appearing to endorse Democrats' proposals for gun control while shutting down those from fellow Republicans.
Trump sat down with over a dozen lawmakers on Wednesday, two weeks after a former student killed 17 people and wounded 14 others at a Parkland, Florida high school. He seemed enthusiastic about tougher background checks proposed by Senator Chris Murphy (D-Connecticut) and a 2013 bill proposed by Senators Pat Toomey (R-Pennsylvania) and Joe Manchin (D-West Virginia).
"You have a different president now," he said. He told the lawmakers that he would be outlawing "bump stocks" with an executive order by the end of the week and urged them to combine their proposals into a single "beautiful" bill he could sign, and soon.
Trump also urged the lawmakers to do something "very decisive" about the mentally ill.
"I don't want mentally ill people to be having guns," he said, going so far as to argue the government should "take the guns first, go through due process second" in cases of individuals with mental illness who pose a danger to themselves and others.
Meanwhile, Vice President Mike Pence advocated due process first, while Senator Chuck Grassley (R-Iowa) pointed out that many people with mental illness are not a danger and outlawing their access to firearms would be unfair.
When Democrats cautioned that the National Rifle Association (NRA) would be against their proposals, Trump mocked them for being "afraid" of the NRA. "They have great power over you people," he said.
"I'm a big fan of the NRA … These are great people, these are great patriots," he said. "They love our country. But that doesn't mean we have to agree on everything."
The president was also dismissive of the concealed-carry reciprocity proposal floated by House Majority Whip Steve Scalise (R-Louisiana), who was seriously wounded in the October 2017 shooting at a baseball field in Alexandria, Virginia.
"You'll never get this passed. If you add concealed carry to this you'll never get it passed. Let it be a separate bill," Trump told Scalise.
Some conservative commentators - and fierce Trump critics - were incensed by the comments.
NRA spokeswoman Dana Loesch was also perturbed by Trump's comments.
"We're talking about punishing innocent Americans and stripping their rights without due process," she told Fox News on Wednesday evening. "Due process must be respected...It is the foundational principle of this country."
Loesch was also opposed to a proposal to raise the age limit for gun purchases from 18 to 21, which Trump seemed to approve of in the meeting.
"Making people wait does not solve psychosis," she argued.
There is a good chance the age restriction may go into effect even without a law. Dick's Sporting Goods, a major seller of outdoors equipment, announced on Wednesday that it would no longer sell firearms to customers under the age of 21. Walmart followed suit later in the day, saying it was the right decision "in light of recent events."
Protecting the Second Amendment was Trump's second campaign plank, right after immigration. Following the Florida school shooting, Democrats reached out to gun control groups to see how they could politicize the issue to their advantage in the upcoming midterm elections in November, according to the Washington Post.
"Let's not set our sights too narrow or squander this moment," Senate Minority Leader Chuck Schumer (D-New York) said on Tuesday, prompting the Post to report how the party is planning to torpedo Murphy's background check bill in order to push for more expansive gun control legislation.
Yet there was Trump, backing Murphy's bill at the White House and apparently agreeing with other things the Democrats were bringing up. Strange as that scene was, it was not without precedent. In January, Trump laid out the "four pillars" for immigration reform, drawing fire from Republicans for offering amnesty to 1.8 million illegal immigrants, even if that meant funding for the border wall and abolition of chain migration and the diversity lottery. Then, as now, he made the proposals at a televised meeting at the White House.
The Democrats proceeded to self-destruct, denouncing Trump's proposal as racist and scuttling the amnesty negotiations entirely, to the great dismay of their immigrant activist supporters.
If you like this story, share it with a friend!
You can share this story on social media: