Tillerson 'listening' but won't deviate from 'big stick' strategy with N. Korea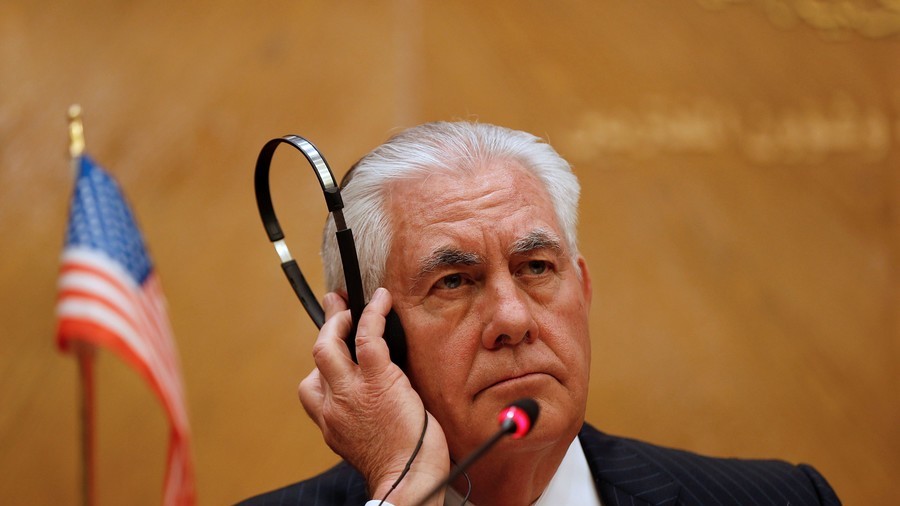 The US approach to North Korea is showing no signs of softening, after Secretary of State Rex Tillerson said the government is using "big sticks" rather than delicate diplomacy to enable talks.
The leaders of the two nations have engaged in a series of bizarre tit-for-tat insults over the last year, with Tillerson previously admitting that military intervention in North Korea was a possibility. North Korea's efforts to develop its ballistic missile program has raised tensions on the Korean peninsula, while the country's supreme leader Kim Jong-Un has eyed the US mainland as a potential "nuclear strike zone."
READ MORE: 'Mine is bigger': Trump dares Kim Jong-un to compare nuclear buttons
Amid the threatening rhetoric, the US government has maintained sanctions against North Korea, with which it has no official diplomatic ties. In an interview with CBS 60 Minutes scheduled to air Sunday, Tillerson said that while communication channels are open, the US will continue its current approach.
Asked what methods were being used to encourage peaceful talks, Tillerson said that the US strategy is to continue applying pressure. "We're not using a carrot to convince them to talk, we're using large sticks and that is what they need to understand. This pressure campaign is having its bite on North Korea," he added.
"It is my job as chief diplomat to ensure that the North Koreans know we keep our channels open. I'm listening, I'm not sending a lot of messages back because there is nothing to say to them at this point," he said.
READ MORE: Pence raises prospects for talks with North Korea, sanctions to continue
The strategy has so far seen US President Donald Trump threaten North Korea with 'fire and fury,' while frontline staff like Vice President Mike Pence have expressed a desire for direct talks.
Last month, Democratic Congresswoman, and member of the US National Guard, Tulsi Gabbard criticized the West for saddling North Korea with "unrealistic preconditions" for peace.
"We have seen this nuclear threat during the Cold War when the Soviet Union and the US were seconds away from an attack. Peace with North Korea requires immediate and direct talks without preconditions," she said.
If you like this story, share it with a friend!
You can share this story on social media: