'Breaking news' about Trump not being a 'feminist' triggers fierce mockery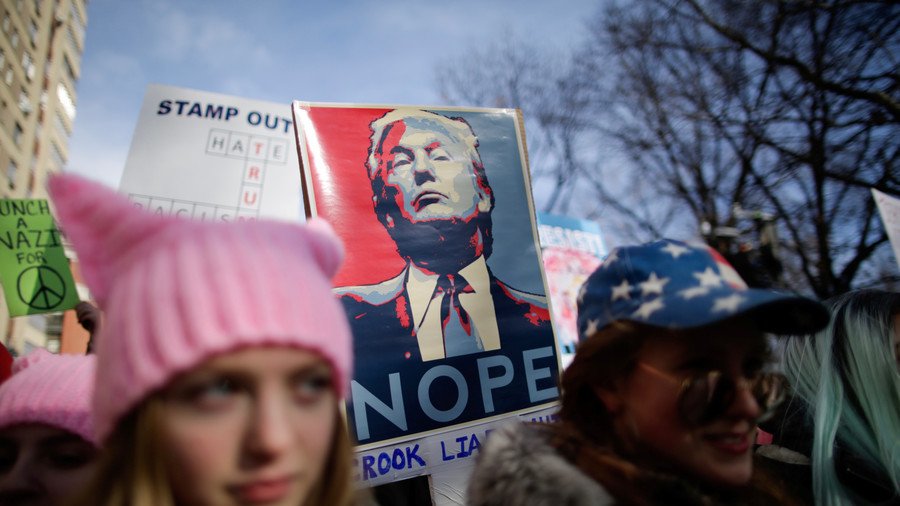 British journalist Piers Morgan, who revealed Donald Trump confessed to him that he is not a feminist, has drawn a barrage of ridicule. Netizens responded to the 'sensation' with an almighty 'no sh*t!'
"No, I wouldn't say I'm a feminist. I mean, I think that would be, maybe, going too far," US President Trump said during a soon-to-be-aired interview with Morgan on the sidelines of the World Economic Forum in Davos.
Having admitted that calling himself a "feminist" was a bit of a stretch, Trump assured Morgan that he cares deeply about every gender. "I'm for women, I'm for men, I'm for everyone," he said.
While Trump has given very little reason to suspect he has any hidden sympathies for the feminist movement, Morgan chose this particular revelation to promote his interview on Twitter with a flashy caption: "BREAKING NEWS."
Although Morgan posted a number of other promotional tweets covering other topics covered in the interview, the "he is NOT a feminist" tweet became a real hit, scoring over 2,700 likes and 1,700 responses, most of them sarcastic.
The commentators took aim at both Morgan and Trump. The former got a scolding from followers and fellow journos for taking sensationalism to new highs with "this incredible scoop." Twitter has predictably exploded with dozens of memes.
"BREAKING: Pope: "I'm Catholic," a user wrote, while others compared the revelation to "water is wet" and "grass is green."
Many Trump critics seized the opportunity to recall all his faux pas related to women and multiple allegations of sexual misconduct and harassment.
Trump repeatedly denied the accusations as "fabricated" and "fake news" used by Democrats to undermine his presidency on par with the Russia probe, which he denounced as a "witch hunt."
"Despite thousands of hours wasted and many millions of dollars spent, the Democrats have been unable to show any collusion with Russia – so now they are moving on to the false accusations and fabricated stories of women who I don't know and/or have never met. FAKE NEWS!" Trump tweeted in December.
You can share this story on social media: