'We're a feminist government': Trump 'trolled' by Swedish Deputy PM (PHOTO)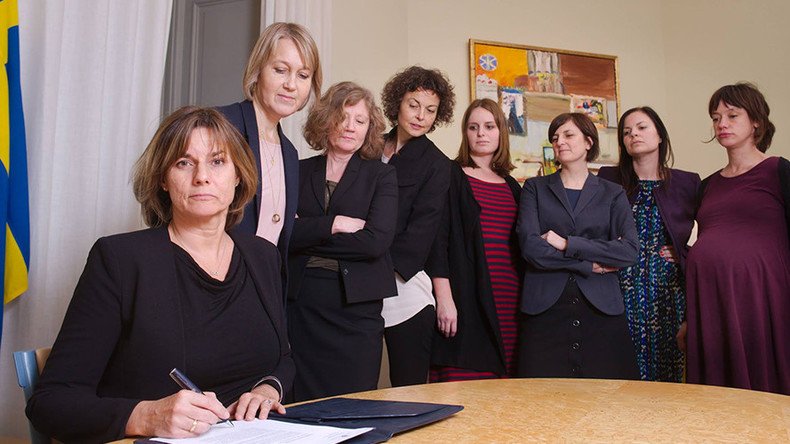 Isabella Lövin, Sweden's Deputy Prime Minister and also Climate Minister, received wide praise online after seemingly trolling US President Donald Trump in a photo she shared online.
The photo, which Lövin shared on Twitter and Facebook, shows the minister flanked by a number of her female colleagues as she signed a proposal for new climate laws which will see all future governments in the country "obliged to reduce greenhouse gas emissions."
The post has been shared on Facebook over four thousand times and retweeted over seven thousands times on Twitter, but not necessarily for the reasons you'd think.
Social media users were quick to note the similarities between Lövin's photo and one of US President Donald Trump from last month in which Trump is surrounded by a number of men while signing an executive order which reduced funding to family planning groups who give advice on abortions.
While many praised Lövin for apparently trolling Trump with the photo, she remained coy about whether it was intentional.
"We are a feminist government, which shows in this photo. Ultimately it is up to the observer to interpret the photo," she told The Local.
@IsabellaLovin More women in politics means better policy decisions. Men have had their turn. All they do is start wars and chest pump.

— Steve Sperandeo (@stevesperandeo) February 3, 2017
@IsabellaLovin Leading the effort to save the planet while expertly trolling Trump. It's a thing of beauty.

— Steve Sperandeo (@stevesperandeo) February 3, 2017
Lövin's photo also encouraged other women to share work related photos in which no men were present.
You can share this story on social media: