Florida retirement village tells residents to take a back seat with fleet of self-driving cars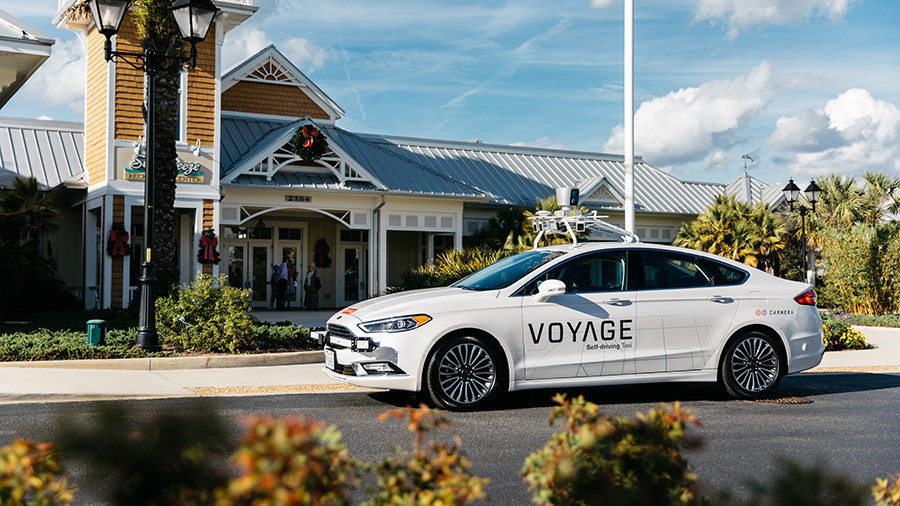 A sprawling US retirement village has announced plans to introduce a self-driving taxi service next year.
Some 125,000 residents of The Villages retirement community in Florida are set to benefit from the roll out by car company Voyage. Once implemented, the scheme will service all 54,000 households spanning 750 miles of road – the largest by area in the world, according to the firm.
In a statement, Voyage, which operates a number of driverless taxis at another retirement community in San Jose, California, said a round of venture capital funding has raised its budget for the project to $20 million. The Villages enjoys something of a raucous reputation among retirees, no doubt helped by the luxury of more than a hundred different places to eat and drink.
READ MORE: Russia's Yandex.Taxi takes self-driving car for first snow test
However, the cars, which can be hailed using a mobile app, are not fully autonomous, as each vehicle comes with its own driver who can take over in case of an emergency. Florida is one of 20 states to approve the use of autonomous cars, but safety fears still persist following a number of accidents in recent times.
In the latest incident, driverless startup Argo was involved in an accident in the East Allegheny area of Pittsburgh on Wednesday. Two people were hospitalized after a van reportedly ran a red light before striking the Ford-funded driverless car, smashing the doors and windows in the collision. The two people transferred to hospital were later released.
READ MORE: Technology of the future: Robots use foresight to imagine actions (VIDEO)
"We're aware that an Argo AI test vehicle was involved in an accident. We're gathering all the information. Our initial focus is on making sure that everyone involved is safe," a Ford spokesperson said in a statement to TechCrunch.
You can share this story on social media: