Roy Moore suffers shock upset in Alabama Senate race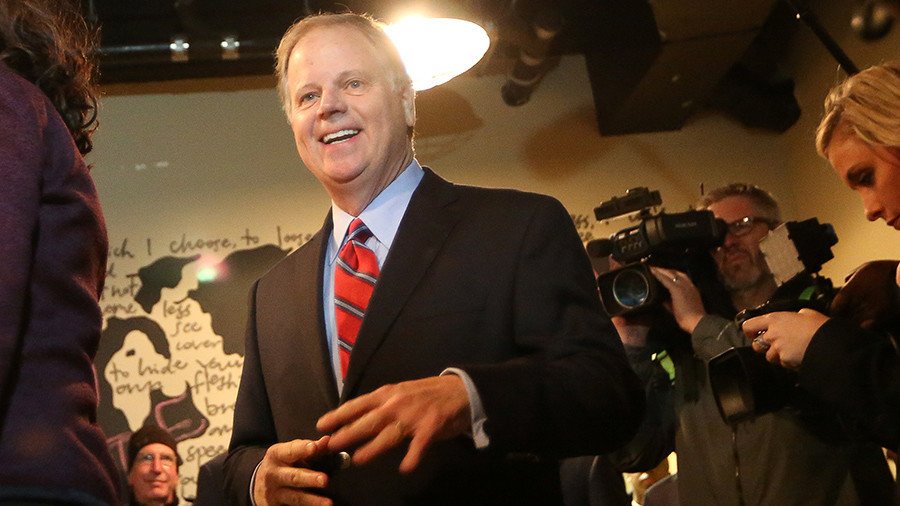 Democratic candidate Doug Jones will be the new US senator from Alabama after defeating Republican Roy Moore in a special runoff election. Jones' shock victory will send ripples through Congress, and could impact upcoming races.
With 89 percent of precincts reporting, Jones was declared the winner with 49.6 percent of the vote, compared to Moore's 48.8 percent, according to the Associated Press.
Doug Jones took to Twitter to thank his supporters after he was announced the winner on Tuesday night.
Jones also addressed his supporters in a speech after clinching his win, and stated: "I am truly, truly overwhelmed." He added that he "always believed that the people of Alabama had more in common than to divide us."
Moore did not concede the election during brief remarks to supporters late Tuesday night.
The former judge alluded to Alabama state code, which says an automatic recount in the election will take place if both candidates are within a half percent of each other after a winning candidate has been announced.
"It's not over, it's going to take some time," Moore said.
Moore also alluded to the controversy surrounding his campaign in recent weeks.
"We have been painted in an unfavorable and unfaithful light," he said.
President Donald Trump, who supported Moore, tweeted a response after the election had been decided, congratulating Jones on his victory.
Congratulations to Doug Jones on a hard fought victory. The write-in votes played a very big factor, but a win is a win. The people of Alabama are great, and the Republicans will have another shot at this seat in a very short period of time. It never ends!

— Donald J. Trump (@realDonaldTrump) December 13, 2017
Jones' win represents a clean sweep of elections in the state of Alabama for the Democratic Party this year, as he will now take over Attorney General Jeff Sessions' former post. His win also brings Democrats a step closer to their goal of winning back the US Senate majority next year, as the Republican majority in that chamber has now been reduced down to one seat, Real Clear Politics reported.
Sexual assault accusations against Moore started to flood in from a total of nine women, while seven of the women claim Moore sexually assaulted, harassed or had a relationship with them when they were teenagers, and Moore was in his 30s.
Jones began using the accusations against Moore in the race for the Senate seat, the Washington Examiner reported.
During the campaign, Jones received support from high-profile Democrats such as former President Barack Obama and Senator Cory Booker (D-New Jersey).
Jones' campaign raised twice as much money as Moore's did, as Jones' contributions came in at $11.8 million, compared to Moore's $5 million. Jones' largest donor was revealed to be a mysterious super PAC called Highway 31, which is on record as being created on November 6, Pacific Standard reported.
Highway 31 delivered more than $4.1 million to Jones' campaign, which includes spending on ads, according to Politico.
Moore's largest donor, on the other hand, was a PAC called America First Action, which is a supporter of President Trump's policies, Pacific Standard reported.
Following the 2016 presidential election between Democrat Hillary Clinton and then-candidate Donald Trump, Trump won the state of Alabama by 28 points. Alabama has not elected a Democrat to the Senate since 1992, when Senator Richard Shelby (D-Alabama) won his seat. Shelby has since re-registered with the Republican party.
Controversy surrounding Jones' challenger, Moore, dates back to his days as chief justice in Alabama in 2001, when Moore hung a homemade Ten Commandments plaque on his courtroom wall. Defendants in the courtroom eventually issued complaints about the plaque, and also took issue with Moore's decision to begin court sessions with prayer, according to Alabama Media Group.
READ MORE: 'Our lawyer's a Jew' – Roy Moore's wife insists family isn't anti-Semitic (VIDEO)
Moore did not comply with the orders, but after lawsuits were filed on behalf of three lawyers against the plaque, in 2003, a federal court order forced its removal from Moore's courtroom. That same year, the Alabama Court of the Judiciary unanimously ordered Moored to be removed from his position as chief justice, Alabama Media Group reported.
You can share this story on social media: