12yo 'Trump Girl' interviews Roy Moore before Alabama election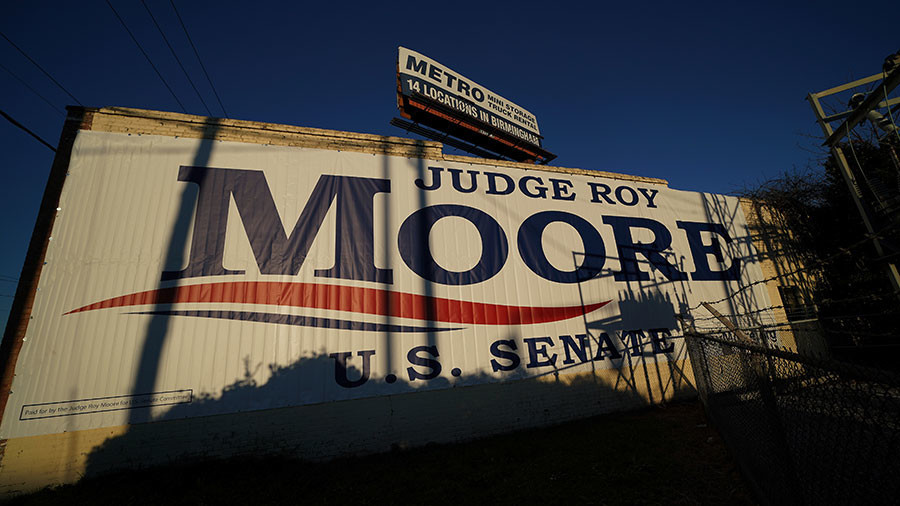 A pro-Trump political group has arranged for a 12-year old girl to interview Roy Moore, the Republican running for the vacant US Senate seat in Alabama, and who is fighting accusations of sexually assaulting minors decades ago.
Millie March, the girl who interviewed Moore, gained fame during the 2016 presidential campaign for her support of Trump. America First Project, the super PAC which arranged the interview, was founded by ex-Breitbart News staffer Patrick Howley. Breitbart has been openly supportive of Moore's candidacy, both in the primaries and in the run-up to the December 12 vote.
The video opens with the Jennifer Lawrence from the America First Project introducing Millie over videos of previous interviews. "We decided we were going to bring Millie to Alabama, after everything that's happened in this Alabama Senate race up until this point we thought it was important," Lawrence says. Millie was brought to Alabama "to show there is a wide range of people who support Roy Moore," Lawrence added.
Millie discussed abortion and building a wall along the US-Mexico border with Moore's campaign manager, Rich Hobson.
"What's the age range or age group or what kind of people are supporting Judge Moore right now" Millie asks. "I wish I could say it's the eleven and twelve-years-olds right now," Hobson replied.
Speaking to Moore at the Alabama GOP headquarters, Millie asked if he will support Trump's plan to build a wall along the southern border, and what he thought were the most important issues to voters of Alabama. Religious liberty, healthcare, and taxes, Moore replied. As for the wall, he would support using the military to reinforce the Border Patrol.
Moore is no stranger to controversy. In 2006, he wrote that Muslims should not be allowed to serve in Congress, propagated the conspiracy theory that Barack Obama was not born in the US, and said"homosexual conduct" should be illegal.
Last month, a Washington Post report referenced claims by four women who accused the former Alabama Supreme Court Judge of sexual assault. All of the women said they were between the ages of 14 and 18 when Moore allegedly sexually assaulted them. Moore has denied the allegations, which he called "the very definition of fake news."
Despite the charges, Moore has earned Trump's endorsement. "Get out and vote for Roy Moore," Trump said during a speech in Pensacola, Florida last week. "We can't afford to have a liberal Democrat who is completely controlled by Nancy Pelosi and Chuck Schumer. We can't do it."
The special election for the vacant Alabama Senate seat is scheduled for Tuesday.