GOP Senate candidate accused of sex assault loses nearly all party support in DC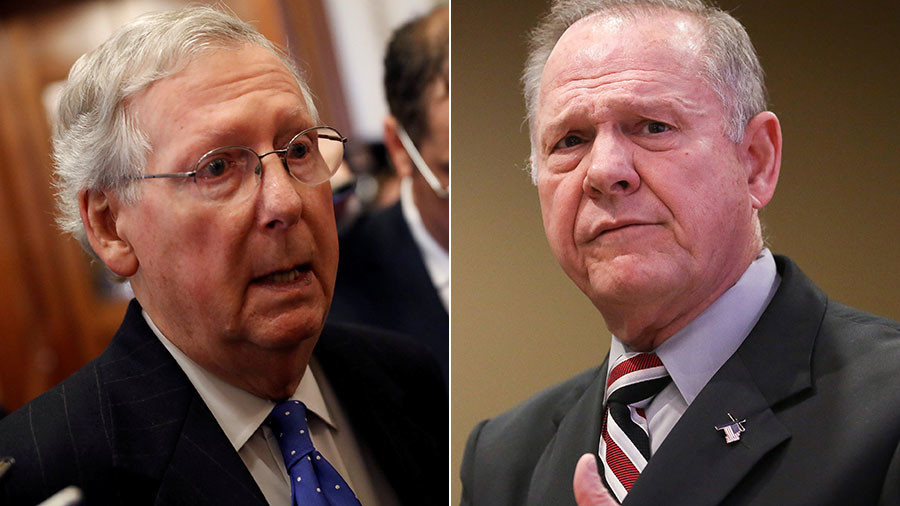 The most senior Senate Republican is siding with several women alleging sexual misconduct against a candidate from his own party, as a fifth woman claims that Alabama Republican Senate nominee Roy Moore tried to rape her when she was a teenager.
Speaking to reporters on Monday, Senate Majority Leader Mitch McConnell (R-Kentucky) told reporters that Moore should be expelled from the Senate even if he wins the upcoming December 12 special election.
"I believe the women," McConnell said, according to NBC News. "I think he should step aside."
Moore fired back at McConnell, saying that he is the one who should step down because he "has failed conservatives and must be replaced."
During the September race to fill the Alabama senate seat vacated by Attorney General Jeff Sessions, McConnell supported Moore's opponent, Luther Strange.
Former White House chief strategist and Breitbart News executive chairman Steve Bannon, who is on a mission to oust McConnell from his leadership post, accused McConnell, the GOP establishment, Democrats and the Washington Post of carrying out a "coordinated hit" on Moore.
"This is just another desperate attempt by Mitch McConnell to keep power, and it's not going to work," Bannon said in an interview with SiriusXM host Alex Marlow, according to Breitbart. "This is an orchestrated hit from the Uniparty."
Last week, the Washington Post published a report detailing the accounts of four women who accused the former state Supreme Court Judge of sexual assault. All of the women said they were between the ages of 14 and 18 when Moore allegedly assaulted them.
Moore has denied the allegations, which he called "the very definition of fake news."
"These allegations are completely false and are a desperate political attack by the National Democrat Party and the Washington Post on this campaign," Moore said, according to The Hill.
In the immediate aftermath of the story, Senators John McCain (R-Arizona) and Jeff Flake (R-Arizona), who have both made fiery speeches against President Donald Trump, said the report was enough to call for Moore to drop out of the race.
On Friday, White House Press Secretary Sarah Huckabee Sanders told reporters that Trump, who supported Moore's opponent in the election, has called on him to step down "if these allegations are true."
"Like most Americans, the President believes that we cannot allow a mere allegation – in this case, one from many years ago – to destroy a person's life," Huckabee Sanders said. "However, the president also believes that if these allegations are true, Judge Moore will do the right thing and step aside."
A number of other lawmakers have also withdrawn their endorsements for Moore and called for him to step down, including Senators Bob Corker (R-Tennessee) and Susan Collins (R-Maine), both of whom have made recent statements against the Trump administration.
On Monday, National Republican Senatorial Committee Chairman Cory Gardner (R-Colorado) said the Senate should expel Moore even if he wins the special election next month.
"I believe the individuals speaking out against Roy Moore spoke with courage and truth, proving he is unfit to serve in the United States Senate and he should not run for office," Gardner said, according to the Huffington Post. "If he refuses to withdraw and wins, the Senate should vote to expel him, because he does not meet the ethical and moral requirements of the United States Senate."
The last time a senator was successfully expelled was in 1862, when Senator Jesse Bright (D-Indiana) was charged with supporting the Confederate rebellion.
On Monday, Beverly Young Nelson came forward with new allegations that Moore sexually assaulted her when she was 16 years old. Nelson said that in the late 19'70's, Moore, who was in his 30's, came to the restaurant where she worked and offered to give her a ride home.
Instead of driving her home, Nelson said Moore drove her to a deserted area and locked the door to keep her inside. Nelson said that Moore touched her breasts, tried to pull off her shirt and pushed her head toward his crotch.
"I thought that he was going to rape me," Nelson said, according to the Washington Post.
When Moore stopped, Nelson said that he told her to stay quiet, adding that no one would believe her because he was a powerful judge at the time.
"He looked at me, and he told me, 'You're just a child.' And he said, 'I am the district attorney of Etowah County, and if you tell anyone about this, no one will ever believe you," Nelson added.
After the most recent allegation, Flake said that if he was a voter in Alabama, he would rather vote for a Democrat than vote for Moore.
"If the choice is between Roy Moore and a Democrat —– the Democrat, no doubt," Flake said, according to the Washington Examiner. "I would literally — ... iIf I were in Alabama —, I would run to the polling place to vote for the Democrat."