'Our lawyer's a Jew' – Roy Moore's wife insists family isn't anti-Semitic (VIDEO)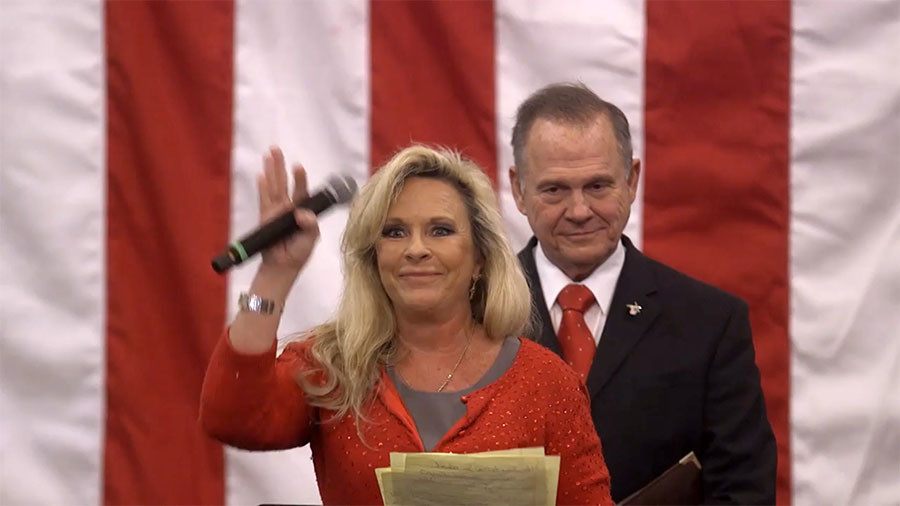 During a final rally to support her husband, Kayla Moore, wife of Alabama Senate hopeful Roy Moore suggested that the couple could not be anti-Semitic because one of their attorneys is "a Jew."
The wife of the embattled candidate, who has been accused by multiple women of sexually inappropriate behavior, dating back to his time as an Alabama judge, made her comments on Monday at an event in Midland City, Alabama.
"Fake news would tell you that we don't care for Jews," Kayla Moore said. "I tell you all this because I've seen it all, so I just want to set the record straight while they're here," she said while seemingly waving to the gathered media.
"One of our attorneys is a Jew," she said, to laughs, cheers and applause from the crowd. Kayla Moore's comments came after her husband suggested that billionaire George Soros, who himself is Jewish, is going to hell.
"No matter how much money he's got, he's still going to the same place that people who don't recognize God and morality and accept his salvation are going," Moore said. "And that's not a good place."
Despite the multitude of allegations against him, Moore has been repeatedly endorsed by President Donald Trump. However he has lost the support of most of the Republican party. Recently Trump urged a crowd gathered for a rally in neighboring Florida to "Get out and vote for Roy Moore," while simultaneously attacking his Democratic rival Doug Jones.
"We can't afford to have a liberal Democrat who is completely controlled by Nancy Pelosi and Chuck Schumer. We can't do it," the president said, reiterating similar remarks about Jones that he made in late November.
Moore and Jones face off Tuesday, as both vie for the seat left vacant when Jeff Sessions became attorney general earlier this year.