The Weinstein effect: TIME honors sexual misconduct whistleblowers
Published time: 6 Dec, 2017 17:31
Edited time: 7 Dec, 2017 10:01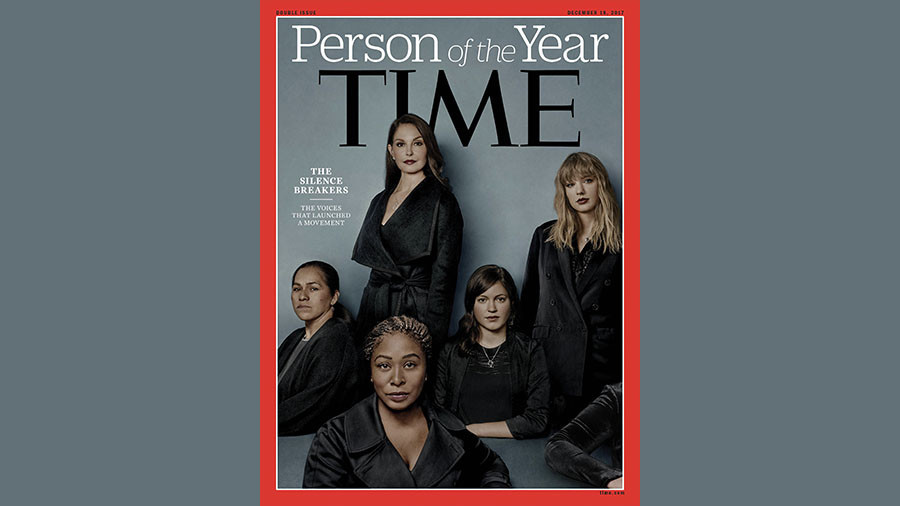 The TIME 'Person of the Year' award went to those women who have accused their male colleagues of sexual misconduct, a movement that unleashed 'one of the highest-velocity shifts' in US culture since the 1960s, the magazine says.
It's the story that just won't stop giving, and the US media can't stop dishing it up. Now the movement, immortalized on social media as the #MeToo campaign, has garnered worldwide attention.
Passing over a number of other famous contenders, including Donald Trump, Xi Jinping, and Crown Prince Mohammed bin Salman, TIME endorsed the #MeToo campaign, which some say has forever altered relations between the sexes – for better or for worse.
The magazine's cover features actress Ashley Judd, singer Taylor Swift, and former Uber engineer Susan Fowler, who have all gone public over their sexual misconduct experiences. Sharing the spotlight with the high and mighty are Isabel Pascual, a Mexican woman who works picking strawberries, and Adama Iwu, a corporate lobbyist in Sacramento.
Revealing the 'Silence Breakers' on the Today show, TIME editor-in-chief Edward Felsenthal explained the idea behind the selection.
"The idea that influential, inspirational individuals shape the world could not be more apt this year," Felsenthal said. "For giving voice to open secrets, for moving whisper networks onto social networks, for pushing us all to stop accepting the unacceptable, The Silence Breakers are the 2017 Person of the Year."
The Weinstein effect
The avalanche of sexual harassment claims began with the epic downfall of Harvey Weinstein, 65. The Hollywood mogul co-founded Miramax, the entertainment powerhouse that catapulted a number of young stars to fame and fortune, including Matt Damon and Ben Affleck. Weinstein's empire came crashing down practically overnight when The New York Times released a report alleging numerous allegations of sexual misconduct against Weinstein from dozens of women.
Following a social media campaign, numerous other women took the cue, coming out of the shadows to demand justice. Every day, it seems, a new name is added to a growing list of American men – many of them household names in their own right – who are being accused of sexual misconduct from their female colleagues. The actor Kevin Spacey, comedian Louis C.K., journalist Charlie Rose, and NBC host Matt Lauer are just a few of the prominent males from the world of entertainment that have seen their careers ended overnight.
In one case that deserves special mention, it has been reported that over 300 women accused filmmaker James Toback of sexual harassment.
The world of politics, however, was also not spared. Alabama Senate candidate Roy Moore, Congressman John Conyers (D-Michigan) and Senator Al Franken (D- Minnesota) are all struggling to save their political careers, if not their reputations, following accusations of sexual misconduct brought against them.
The question now, after the dust is finally starting to settle on the salacious scandals, is: what does this mean for the future of sexual relations in the US?