Trump says 'chain migration' led to NYC terrorist attack, wants family visas abolished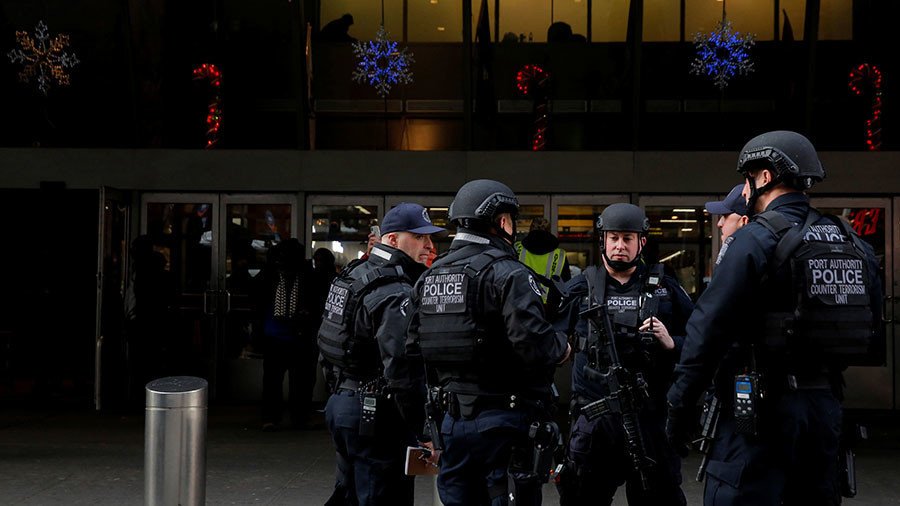 In the wake of the botched NYC terrorist attack, President Donald Trump has called for an end to so-called "chain migration." Trump told Congress to act in order to thwart future incidents like the one carried out in a midtown Manhattan tunnel.
Trump issued a statement Monday after the morning's terrorist attack, allegedly carried out by Bangladeshi-native Brooklyn resident Akayed Ullah. He detonated a pipe bomb in the 42nd Street passageway tunnel in midtown Manhattan, injuring himself and three others.
"Today's terror suspect entered our country through extended-family chain migration, which is incompatible with national security," Trump said. "America must fix its lax immigration system, which allows far too many dangerous, inadequately vetted people to access our country."
"Congress must end chain migration," the president empgasized, referring to the program whereby immigrants enter the US through the sponsorship of relatives already established in the country.
Trump also called on Congress to "act on my Administration's other proposals to enhance domestic security, including increasing the number of Immigration and Customs Enforcement officers."
He stated that Congress needs to enhance "the arrest and detention authorities for immigration officers" and end the "fraud and abuse in our immigration system."
Trump also spoke about his travel ban in the statement, which prohibits nationals from eight countries from entering the US. He called the ban an important step in reaching his goal to reform the US immigration system.
Attorney General Jeff Sessions said Trump was "exactly correct about the changes we need," in his own statement Monday.
"We have now seen two terrorist attacks in New York City in less than two months that were carried out by people who came here as the result of our failed immigration policies that do not serve the national interest – the diversity lottery and chain migration," Sessions said.
"The 20-year-old son of the sister of a US citizen should not get priority to come to this country ahead of someone who is high-skilled, well educated, has learned English, and is likely to assimilate and flourish here," Sessions added.
NEW: Family of Port Authority bomber Akayed Ullah say they are "heartbroken by the violence," before pivoting to law enforcement officials, saying they are "outraged," by their previous behavior of unrelated incidents. pic.twitter.com/5Z8P5wbile

— Terror Today (@TerrorToday) December 12, 2017
White House Press Secretary Sarah Sanders took questions from the press regarding the Monday morning attack, and was asked if the incident would inspire other terror-related events.
READ MORE: New York police confirm terrorist attack in Manhattan, suspect inspired by ISIS
Sanders said that Trump is currently "concerned that Congress, particularly Dems, have failed to take action" in some areas where authorities could have prevented Monday's attack from happening.
She said the Department of Homeland Security has confirmed Ullah came to the US on a chain migration-related F-43 family visa in 2011. F-43 visas apply to children or brothers or sisters of US citizens who are at least 21 years old.
Monday's terror attack comes on the heels of another attack carried out by Sayfullo Saipov from Uzbekistan, who drove a rented van into a bike path in Manhattan on October 31, killing eight and injuring several others.
You can share this story on social media: