NYC terrorist suspect cites Israeli action in Gaza, holiday picture as motivation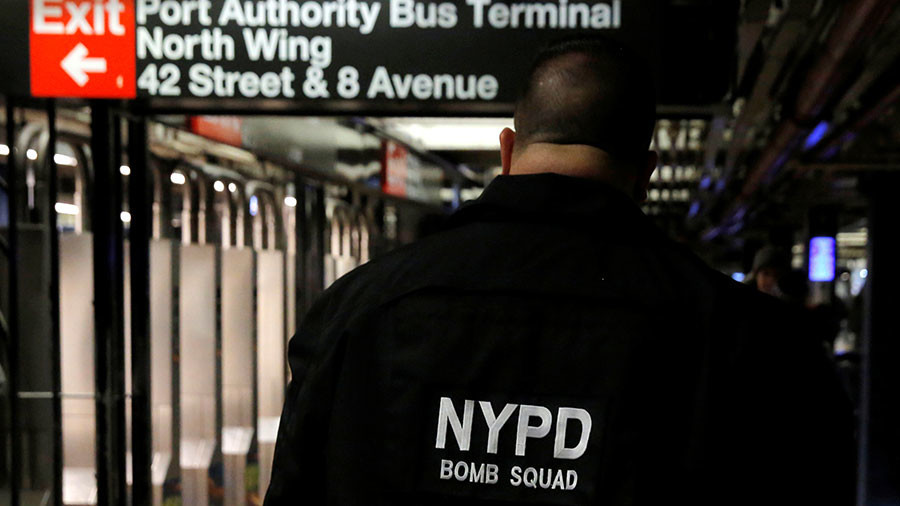 A man suspected of detonating a pipe bomb in a block-long tunnel near a New York City transportation hub, has revealed that Israeli actions in the Gaza strip, and the sight of a holiday picture, inspired his failed attempt to kill.
Akayed Ullah, 27, who lives in Brooklyn, allegedly carried out the attack at the underground 42nd street passageway near the Port Authority Bus Terminal in midtown Manhattan Monday. Ullah later told police he carried out the attack, which injured himself and three others, to exact revenge for recent Israeli military operations, an unnamed law enforcement source told CNN.
Ullah, a Bangladeshi native who has been in the US for seven years, also reportedly told investigators that he intentionally detonated the pipe bomb in an underground block-long tunnel after he noticed a holiday picture in the corridor. The man further explained that he was inspired by ISIS-style Christmas threats, according to two unnamed law enforcement officials, WNBC reported.
The man stated that he intended for the attack to be a suicide bombing and that he viewed Islamic State (IS, formerly ISIS/ISIL) propaganda on the internet. Ullah allegedly said that he had previously read extremist writing and learned how to make pipe bombs after watching online tutorials. However, unnamed law enforcement sources said it did not appear Ullah had direct contact with IS, according to WNBC.
NYC Police Commissioner James O'Neill confirmed Monday that Ullah "did make statements" about IS after he was detained by authorities following the attack, WNBC reported.
O'Neil stated that the suspect created and wore an "improvised low-tech explosive device attached to his body" that he intentionally detonated in the tunnel, CNN reported.
Following President Donald Trump's recognition of Jerusalem as the capital of Israel last week, IS supporters allegedly began issuing more threats against the US, and online accounts supporting IS have swelled following Monday's attack.
After the attempted bombing, IS supporters allegedly sent out a picture showing New York City's Times Square with a picture of a pipe bomb in front of it, and threatened Americans by saying they should "recognize explosives as the capital of your country," according to the SITE Intel Group.
Pro-IS channels were also allegedly seen cheering online, according to the Group.
Even though authorities stated that they do not believe Ullah had direct connections with terrorist groups, his weapon of choice, the pipe bomb, has been promoted by IS and Al-Qaeda in their propaganda publications.
READ MORE: New York police confirm terrorist attack in Manhattan, suspect inspired by ISIS
On November 29, terror suspect Sayfullo Saipov pleaded not guilty to a 12-count indictment after allegedly driving a rented truck onto a bike path in New York City on October 31. Eight people were killed and several others were injured in the attack.
You can share this story on social media: