FBI & CIA left Trump 'no choice' but to delay long-awaited JFK assassination docs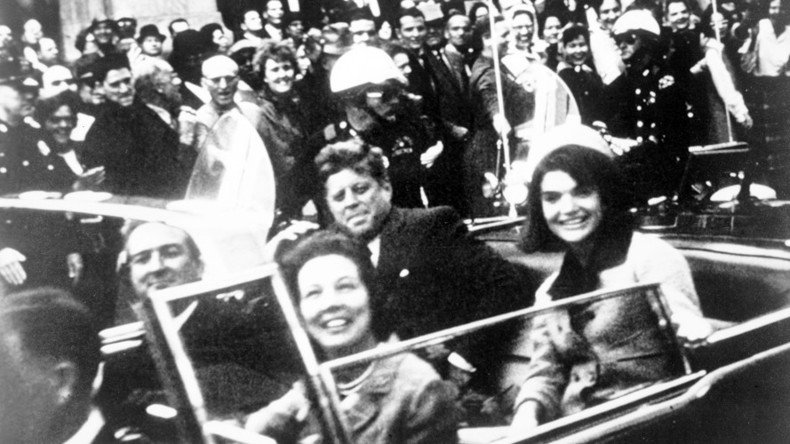 Some of the highly anticipated secret documents containing details of the John F. Kennedy assassination have been released by the National Archives, more than a half-century since the US president was fatally shot in Dallas, Texas.
READ MORE: English newspaper 'tipped off' 25mins before JFK assassination, documents show
The 25-year deadline was set for Thursday, October 26, and while many of the documents were released, the entire trove was not made available by President Donald Trump. Trump said late Thursday that he had "no choice" but to accept the concerns of intelligence agencies, such as the FBI and CIA, according to the Associated Press.
At the request of the CIA and FBI, Trump has delayed some of the JFK files from being fully declassified for at least another six months, the AP reported. The 2,800 documents Trump approved for release are available to search on the National Archives website.
The only person with the power to prevent the release of the documents was Trump, who announced last week that the release would go ahead unimpeded.
The circumstances of JFK's death have fuelled conspiracy theories for years, with many believing shooter Lee Harvey Oswald did not actually kill the president, while others are convinced that the investigation into his murder was impeded by a cover-up orchestrated by intelligence agencies.
In 1992, then-President George Bush Snr. passed a law ordering all remaining records relating to the assassination to be transferred to the National Archives. The John F Kennedy Assassination Records Collection Act provided for the publication of all remaining documents within 25 years, allowing "the public to become fully informed about the history surrounding the assassination."
The long anticipated release of the #JFKFiles will take place tomorrow. So interesting!

— Donald J. Trump (@realDonaldTrump) October 25, 2017
The 25-year deadline is Thursday, October 26, 2017.
READ MORE: JFK assassination: What was Lee Harvey Oswald doing in the USSR?
Subject to the receipt of further information, I will be allowing, as President, the long blocked and classified JFK FILES to be opened.

— Donald J. Trump (@realDonaldTrump) October 21, 2017
READ MORE: Trump to allow release of classified JFK assassination files
The first batch of the documents was released in July, consisting of 400 records that had been fully withheld, and 3,400 that had been partially redacted when they were previously released.
Researchers found it difficult to sift through the documents, however, as many are encoded and in foreign languages, while others are duplicates, making determining what is new information a challenge.
You can share this story on social media: