Trump to allow release of classified JFK assassination files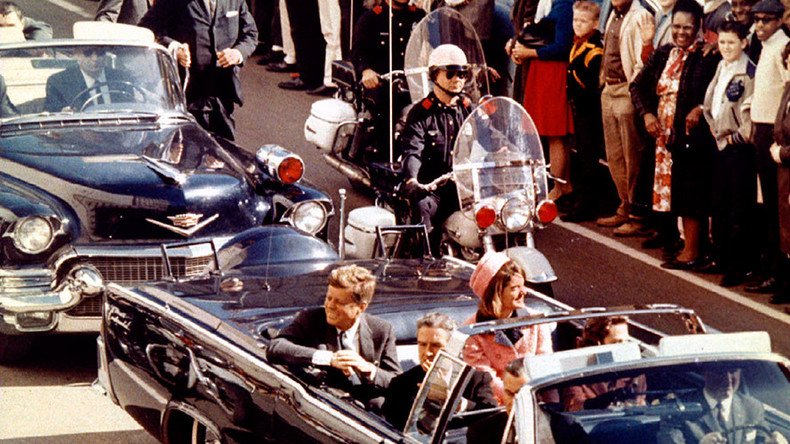 US President Donald Trump says he will allow the release of classified documents relating to the assassination of President John F Kennedy, shot dead while visiting Dallas, Texas in 1963.
READ MORE: JFK, CIA, Mafia and Fidel Castro - Trump can finally allow the truth to emerge from the shadows
The documents were due to be disclosed by the National Archives later this month, however there were some media reports that Trump would not approve the publication of all of the files.
In a tweet sent early Saturday, Trump indicated he will allow the release, "subject to the receipt of further information". It's not clear what "further information" the president is referring to.
Subject to the receipt of further information, I will be allowing, as President, the long blocked and classified JFK FILES to be opened.

— Donald J. Trump (@realDonaldTrump) October 21, 2017
In 1992, then-US President George H. W. Bush signed into law the John F Kennedy Assassination Records Collection Act, compelling the US National Archives to publish documents surrounding Kennedy's death within 25 years.
However, there was a get-out clause in the act which stated public disclosure could be delayed if it threatened "military defense, intelligence operations, law enforcement, or conduct of foreign relations."
A report by Politico Magazine, which cited Trump administration insiders, suggested the president could block some documents from seeing the light of day. A US government spokesperson reportedly told the magazine that the White House is working "to ensure the maximum amount of data can be released to the public".
READ MORE: Ted Cruz: My Twitter account 'liked' porn video due to 'staffing issue'
During the presidential election campaign last year, Trump alleged that the father of rival Republican candidate Ted Cruz had links to Kennedy's supposed killer Lee Harvey Oswald. The accusation stemmed from an image printed on the front of the National Inquirer, which purported to show Rafael Cruz handing out pro-Cuba fliers alongside Oswald in 1963.
"His father was with Lee Harvey Oswald prior to Oswald's being, you know, shot," Trump alleged on Fox News. "Nobody even brings it up. They don't even talk about that. That was reported, and nobody talks about it."
Trump doubled down on the conspiracy in July 2016, saying that Cruz never denied his father met Oswald. Ted Cruz addressed the topic in May that year by saying that his father was also "secretly Elvis and Jimmy Hoffa is buried in his backyard."
You can share this story on social media: