N. Korea may be 'months' away from capability to nuke US, CIA chief hints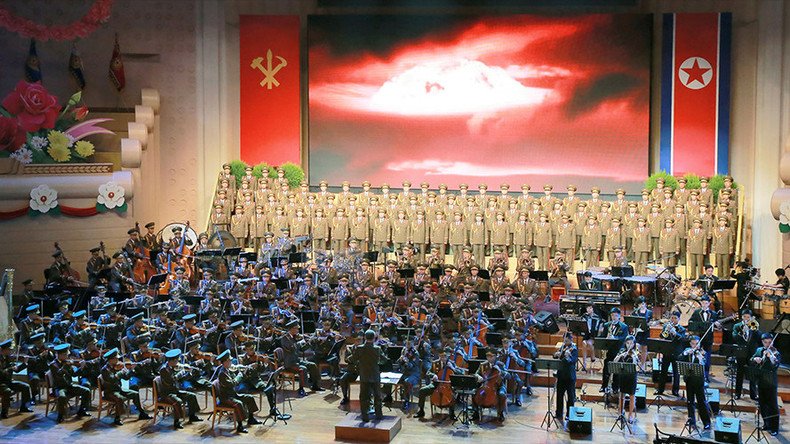 North Korea may be "months" away from capability of striking US soil with nuclear weapons, CIA Director Mike Pompeo hinted.
"They [North Korea] are close enough now in their capabilities that, from a US-policy perspective, we ought to behave as if we are on the cusp of them achieving [ability to strike the US]," Pompeo said, speaking at a national security forum in Washington on Thursday, as cited by AP.
According to the CIA chief, intelligence data gathered on Pyongyang and its current weapons capabilities is still imperfect.
"When you're now talking about months, our capacity to understand that at a detailed level is in some sense irrelevant," said Pompeo.
"We are at a time where the [US] President [Donald Trump] has concluded that we need a global effort to ensure [North Korean leader] Kim Jong-un doesn't have that capacity," he added.
'If Kim suddenly dies, 'I'm just not going to talk about it'
When asked what would happen if North Korean leader Kim Jong-un suddenly died, Pompeo said that such speculation was futile.
"If Kim Jong-un should vanish, given the history of the CIA, I'm just not going to talk about it," Pompeo said with apparent irony, as cited by AFP.
"Someone might think there was a coincidence. 'You know, there was an accident.' It's just not fruitful," he continued.
North Korea claimed earlier this month that the CIA together attempted to kill Kim with the cooperation of South Korean intelligence, state-run KCNA agency reported, without substantiating the claim.
READ MORE: Myriad ways CIA tried and failed to assassinate Fidel Castro
Trump and Kim have been engaged in a fierce war of words in recent months, with comments from each side becoming more and more aggressive. On one occasion, the US President vowed to "totally destroy" North Korea.
In one of his latest comments on the North Korean crisis, US Secretary of State Rex Tillerson said that Washington would continue its diplomatic efforts to solve the North Korean crisis only "until first bomb drops."
In the meantime, North Korea has repeatedly threatened to reduce the US to "ashes and darkness." On Thursday, Pyongyang warned of an "unimaginable strike at an unimaginable time" on US targets, expressing outrage at the ongoing US-South Korean joint naval drills near the Korean Peninsula.
Earlier this month, An Tong Chun, head of North Korea's delegation to the multinational Inter-Parliamentary Union (IPU), said that it was the US who pushed North Korea into making a hydrogen bomb.
North Korea's Deputy UN Ambassador Kim In-ryong escalated the rhetoric by warning the UN General Assembly that the crisis on the Korean Peninsula "has reached the touch-and-go point and a nuclear war may break out any moment."
Russia and China have been pushing for a "double-freeze" plan, which would see Pyongyang suspend its nuclear and ballistic missile tests in exchange for a halt to joint US-South Korea military drills. However, Washington rejected the proposal.
READ MORE: US, South Korea begin naval drills off Korean Peninsula
On Friday, Leonid Slutsky, chairman of the Committee on International Affairs in the Russian Duma, once again called for dialogue to solve the crisis on the Korean peninsula.
"I hope our colleagues in Washington have enough common sense and will stop aggravating the situation with North Korea and will join Russia and other countries that call for the resolution of the conflict in Korea in a diplomatic way," Slutsky said.
You can share this story on social media: