US, South Korea begin naval drills off Korean Peninsula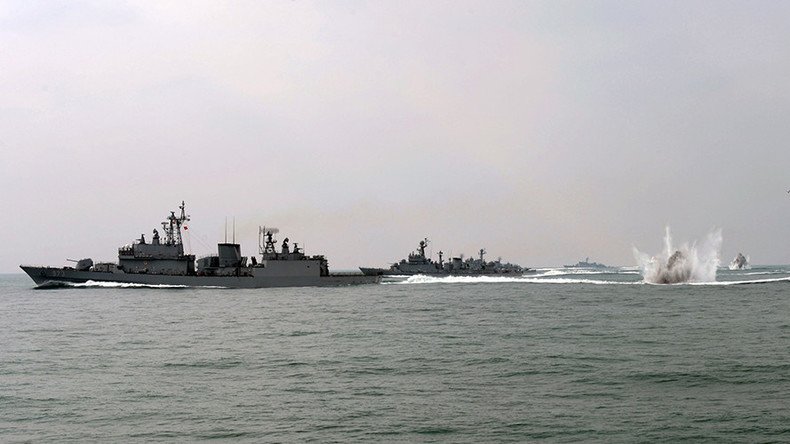 American and South Korean ships began joint naval exercises in the eastern and western waters off the Korean Peninsula, after North Korea renewed its threat to fire missiles near the US territory of Guam.
The maneuvers, which began Monday, will involve fighter jets, helicopters and 40 naval ships and submarines from both countries, including the American aircraft carrier USS 'Ronald Reagan'.
What has been dubbed the Maritime Counter Special Operations Forces Exercise (MCSOFEX) aims"to provide increased mine countermeasure interoperability and readiness to respond to a contingency on the Korean peninsula," according to the US Navy.
The US also sent four advanced fighter jets - two F-22s and two F-35s - for an air show and exhibition in Seoul. Two US B-1B supersonic bombers also flew to South Korea from their base in Guam, in a demonstration of power against any North Korean aggression.
On Friday, the US Navy's 7th Fleet announced the nuclear-powered submarine USS 'Michigan' had arrived from Guam at the South Korean port of Busan "for a routine visit." The 'Michigan' is armed with Tomahawk cruise missiles.
The US and South Korea will start another exercise on October 23 to practice evacuating South Korea of non-combatant Americans in the event of war or other emergencies. The Navy did not say how many people would participate in the evacuation drill, but the scale and focus are to be similar to past exercises.
"Although not directly tied to current geopolitical events, our forces must be ready in all areas," General Vincent K. Brooks, the commander of US Forces Korea, told the New York Times. "This training is as important to readiness as our other routine events such as tank gunnery and fighter wing exercises."
The two countries regularly conduct joint exercises, often enraging the government in Pyongyang, which views such training as a rehearsal for an invasion.
On Friday, North Korea renewed its threat to Guam, accusing the US of provocation by mobilizing the aircraft carrier and other war assets near the Korean Peninsula.
"Such military acts compel (North Korea) to take military counteraction," said Kim Kwang Hak, a researcher at North Korea's Institute of American Studies, according to Stars and Stripes. "We have already warned several times that we will take countermeasures for self-defense, including a salvo of missiles into water near the US territory of Guam."
US President Donald Trump said on Friday that the US is "always open" to negotiations, but appeared to suggest that military options also remained available.
Trump and North Korean leader Kim Jong-un have traded insults in recent months, with the US president labeling Kim a "rocket man...on a suicide mission," and Kim returning fire, calling the American leader a "mentally deranged US dotard."
Trump has gone further and threatened to "totally destroy" the North if Pyongyang continued to threaten the US and its allies.
The UN Security Council had already passed a series of tough economic sanctions against Pyongyang following its repeated testing of ballistic missiles and, reportedly, also of a hydrogen bomb. The UN sanctions targeted shipments of oil and other fuel used in missile testing as well as government assets and leaders.
The most recent UN resolution also banned all textile exports from the North and prohibited any country from authorizing new work permits for North Korean workers – two key sources of hard currency for Pyongyang.
READ MORE: Putin signs decree imposing restrictions on N. Korea as Pyongyang delegation is in Russia
You can share this story on social media: