Navy punishes McCain captain over collision that killed 10 sailors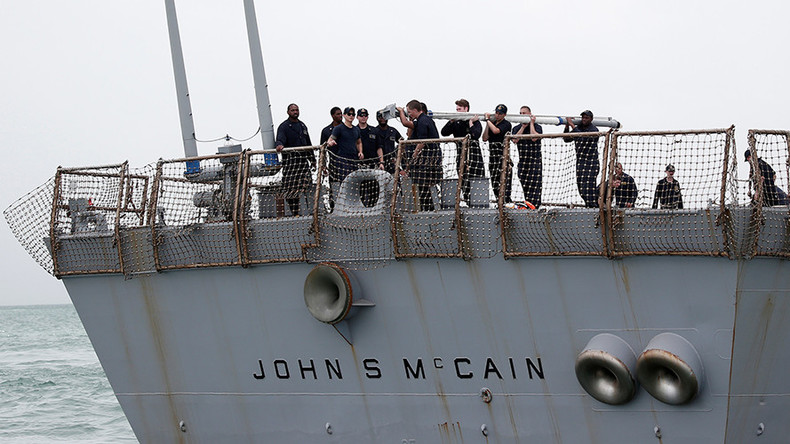 The captain and executive officer of the USS John S. McCain have been relieved of duty and reassigned to administrative jobs in the Seventh Fleet, the US Navy said, blaming their poor judgment for the August collision that killed 10 sailors.
The captain, Commander Alfredo J. Sanchez, and his executive officer Commander Jessie L. Sanchez were relieved of their duties by Vice Admiral Phil Sawyer "due to a loss of confidence," the US Seventh Fleet announced on Wednesday.
The McCain, an Arleigh Burke class guided missile destroyer, collided with the merchant vessel Alnic MC on August 21 near Singapore. Ten sailors were killed and five injured in the incident.
"While the investigation is ongoing, it is evident the collision was preventable, the commanding officer exercised poor judgement, and the executive officer exercised poor leadership of the ship's training program," the Seventh Fleet said.
Both officers were reassigned to shore duty, with the former captain moving to the fleet headquarters and the former executive officer assuming duties at the Ship Repair Facility, both located in Yokosuka, Japan.
READ MORE: First images of damaged & flooded USS John S. McCain after collision with oil tanker (VIDEO)
Another Arleigh Burke class destroyer, the USS Fitzgerald, collided with a cargo ship near Yokosuka in June. Seven sailors were killed in that incident, and the ship's command staff was likewise relieved.
In the aftermath of the McCain incident, the Navy called for an unprecedented "operational pause" in all fleets to review safety procedures, and ordered a wide-ranging investigation into Seventh Fleet operations.
The fleet's commanding officer, Vice Admiral Joseph Aucoin, was relieved at the end of August due to "lack of confidence in his ability to command."
Admiral Scott Swift, head of the US naval forces in the Pacific, announced he would retire in September, after he was passed over for promotion to the Pacific Command.
Deputy Chief of Naval Operations Admiral William F. Moran told Congress last month that increased operational demands contributed to a drop in performance standards and certifications for the crews.
John H. Pendleton, a director of Defense Capabilities and Management at the Government Accountability Office (GAO), told lawmakers that 37 percent of the certifications for the crews of Seventh Fleet cruisers and destroyers based in Yokosuka, Japan, had expired.
"The Navy has had to shorten, eliminate, or defer training and maintenance periods to support these high deployment rates," Pendleton told Congress.
The Seventh Fleet operates about 70 ships, and has approximately 20,000 sailors and 140 aircraft.