Navy removes 7th Fleet commander over 'loss of confidence' after McCain collision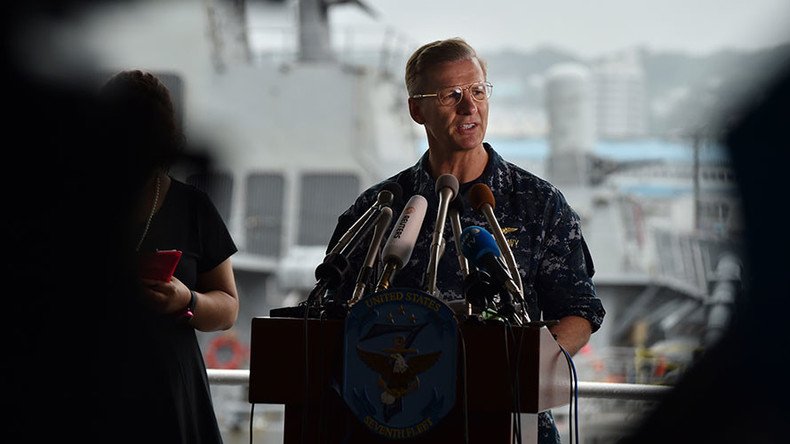 The US Navy has relieved the commander of US 7th fleet after a destroyer collided with a merchant vessel east of the Malacca Strait. It was the fourth time a US warship has been involved in a collision in the Pacific theater this year.
"[Admiral] Scott Swift, commander of US Pacific Fleet, today relieved the commander of Seventh Fleet, Vice Adm. Joseph Aucoin, due to a loss of confidence in his ability to command," the Navy said in a statement.
Rear Admiral Phil Sawyer, who has been promoted to vice admiral, will assume command to replace Aucoin.
Aucoin, a three-star commander of the 7th Fleet, was due to retire within a month, but the Navy decided to expedite his exit amid a probe of fleet operations prompted by the deadly collision of the USS John S. McCain with an oil tanker. The Wall Street Journal was the first to report that the admiral was expected to retire.
On Monday, five sailors were injured and 10 others went missing when the John S. McCain collided with the Alnic MC, a Liberian-flagged 600-foot oil and chemical tanker that was carrying some 12,000 tonnes of fuel oil from Taiwan to Singapore.
On Tuesday, Swift announced that the remains of 10 missing sailors were discovered by divers in a flooded compartment of the destroyer. Swift said that "the search and rescue efforts continue."
Admiral John Richardson, chief of naval operations, directed an operational pause of all US Navy vessels on Monday, in order to "ensure safe and effective operations around the world."
"This trend demands more forceful action," Richardson said in a video posted to the Navy's Twitter page. "As such, I have directed an operational pause be taken in all of our fleets around the world."
In addition, Richardson directed a more comprehensive review of how the Navy trains and certifies its officers to address the "root causes" of the incidents.
"I will examine the process by which we train and certify our forces that are forward deployed in Japan to make sure that we are doing everything that we can to make them ready for operations and warfighting," Richardson said.
The McCain collision marks the second deadly incident in just over two months and the fourth collision in Asian waters this year.
In June, another Arleigh Burke-class destroyer, the USS Fitzgerald, was struck by a Philippine-flagged container ship some 56 nautical miles southwest of Yokosuka, Japan. Seven sailors were killed.
Twelve crew members have been punished by the Navy over that incident, including the Fitzgerald's commander and executive officer.
Before that, the guided-missile cruiser USS Champlain collided with a South Korean fishing boat while conducting operations near the Korean Peninsula in May.
Another guided-missile cruiser, the USS Antietam, ran aground in late January spilling up to 1,100 gallons of hydraulic oil into the water off the coast of Japan.
You can share this story on social media: