Remains of sailors found in flooded compartment of USS John McCain – US Navy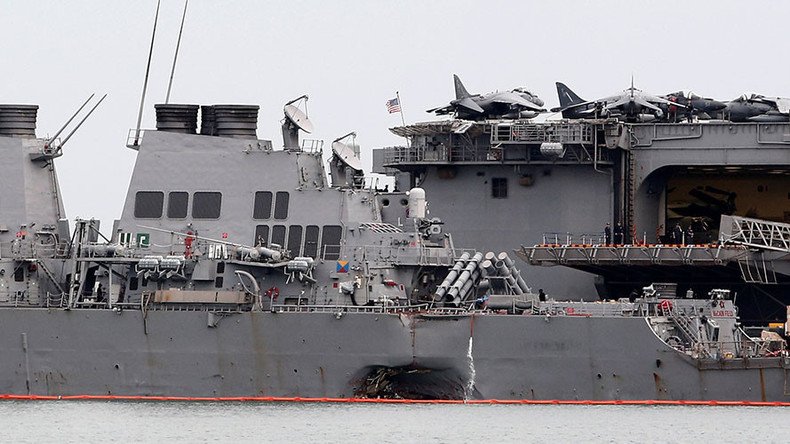 The US Pacific Fleet commander says the remains of sailors have been found in a compartment of the destroyer USS John S. McCain, which was flooded after a collision with a merchant vessel off the coast of Singapore.
"The divers were able to locate some remains in those sealed compartments during their search today," Admiral Scott Swift said at a news conference in Singapore on Tuesday.
He said that the search and rescue operation will go on "until the probability of discovering sailors is exhausted."
"Additionally, the Malaysian Navy has reported that they have found potential remains," Scott stated, adding that Malaysia is yet to provide further details.
American and Singaporean vessels, supported by airplanes and helicopters, have carried out a search and rescue operation for 10 missing crew members of the McCain in an area spanning 2,620 sq km (1,010 square miles) in Southeast Asian waters. Malaysia and Australia are also assisting in the search, with the former searching the northern reaches and the latter looking in the south.
The 505ft-long McCain collided with a 600ft oil and chemical tanker, the Alnic MC, near the coast of Singapore on Monday, injuring five American sailors and leaving 10 missing.
The guided missile destroyer was significantly damaged in the incident and arrived at Changi Naval Base in Singapore with several flooded compartments.
The US Navy also called for an "operational pause"for at least 24 hours for all its fleets around the world following the collision.
You can share this story on social media: